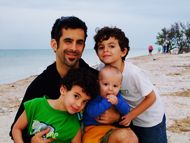 Curious about what hot tech dads are digging these days? Here's our next installment of Dads Dig This featuring Andy Blackman Hurwitz, aka Disco Daddy, who is the co-founder of Baby Loves Disco and dad to three adorable boys.

While analog technology might be old school to some, it's still high tech to me, thanks to the Crosley Revolution sitting neatly on my desk, which flips it back to the future.


This cool machine plays music effortlessly and wirelessly through any fm radio — whether its transistor or full stereo — and is totally cord-free, making it super portable. And as if it wasn't already an all-star on my desktop, the Crosley Revolution portable turntable features a USB hookup for easy analog-to-digital transfer. That means you can play your old Meatloaf album once and when it gets sucked onto your USB jawn, you can finally listen to Bat out of Hell while you're working out.

And if that's not enough, the turntable also comes with a headphone jack and a dynamic full range speaker.

In my world, analog is the new digital. Here's to bringing back vinyl. -Andy Blackman Hurwitz

You can purchase this cool portable turntable at Crosley.
And for more awesome tech gifts for dads–and anyone–see our Tech Holiday Gift Guide!