I admit that I've never actually seen the popular Pictureka! board game or television game show, but fell in love with the awesome graphics as soon as I saw them. So I grabbed the new iPad game and sure enough, my kids and I are completely addicted.

In simple terms, Pictureka! for iPad is sort of like Where's Waldo. On crack. With
super cool graphics. And lots of different challenges other than just
finding Waldo. Make sense?

For each individual adventure round, you're
assigned certain items to find within a certain time period – three legs, four kitchen utensils, two
things that fly–all from a plethora of super cool, eye-catching artwork
that you can scroll with your finger. But
it's not quite as simple as it sounds. For example, things that fly
could be airplanes, spaceships, or butterflies; that's up to you to
determine. So you actually have to think before you find. Cool!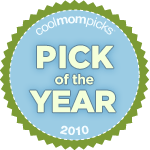 The
match play setting allows you to compete against four different human or computerized players, and offers a variety of challenges, like
bidding to see who can find the most of something, or who can find
something the fastest.

I do agree with some of the reviews that complain that the game is a bit challenging for kids under six, particularly because it
does require the ability to read. And it's definitely easier on the big iPad screen than on an iPhone. However, if you (or your reading kids)
play it with your non-readers, I found that age isn't completely a factor. While
my six-year-old has trouble finding her shoes even when they're right
in front of her, and therefore had a little difficulty with the game, my
near 4-year-old son is a pro.

Either way, it's a super fun family game
that just so happens to be educational too. Perfect combination. -Kristen

Download Pictureka for iPad or iPhone from iTunes.com