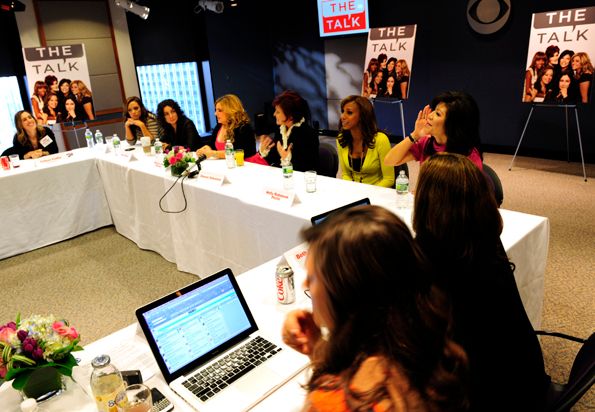 On the new CBS daytime show, The Talk, they're doing a lot more than just talking, and we think it's how well they are listening to moms like us that is worth applauding.
On first glance (or watch) it may seem that the likable hosts including Sharon Osbourne, Leah Remini and Holly Robinson Peete are going off stream-of-consciousness banter with guest stars thrown in for flavor. Turns out, there's more to it then that.
We've been so impressed with how much goes on behind the scenes to ensure that they reach out to online moms specifically, and the blogosphere in general.
From off-camera luncheons between the hosts and bloggers, to weekly Twitter Tuesdays – in which the hosts announces a topic and then shares the questions on air – I like that The Talk is hearing feedback from the mom community and using it to make their show sharper. They have even introduced a segment called Follow Friday where a video of a blogger gets a shout-out on the show along with her Twitter handle. How cool is that? (Psst…@coolmomtech. Just saying.)

And it's nice to see gadget and technology segments (Dr. Gadget recommended the Little Passports gift for kids too) on the show itself, targeted right to moms like me.

We're definitely looking forward to seeing how the show continues to
evolve, and we're rooting for them to keep things fun, spontaneous and
relevant for the savvy moms that we are today. After all, the world
doesn't need another show featuring surprise paternity results.

Besides, anything Sharon Osbourne does is okay by us. -Christina
Watch The Talk weekdays on CBS at 2PM Eastern, 1PM Central. Or see past episodes online. And to be on the show yourself, see their website for categories and pitch away!
EXTRA EXTRA COOL: WIN IT! The
Talk is going all Oprah on us–with a whole minivan trunkful of great
tech items seen on their show, for one Cool Mom Tech reader! It includes
**Congrats to winner Kate A of California. Enjoy! **