As much as my little ones love to play with my iPhone, my nearly 7 year-old daughter enjoys her fair share of play time, usually with games that I've downloaded for myself. (Who can resist Angry Birds and Tiny Wings?)

So this past week I went on a search for fun apps just for her–that interesting period between little kid entertaiment, and big kid gaming. I'm so happy to have found these three cool apps that are not only free of licensed characters, but I love playing them just as much as she does.


Albert

Albert is chock full of 14 mini games, plus 18 added challenges that utilize the full range of the iPhone–multi-touch, tilt, even the microphone–as well as your own sensory abilities. The graphics are outstanding, with images all made from cardboard that was sliced and glued by hand. Earning the full three stars for each level plus trying to find the hidden treasures is tough, even for me, but early graders will still enjoy playing.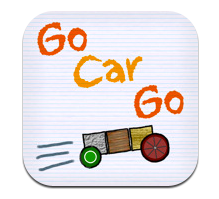 Go Car Go

This game is deceptively challenging, with players building their own car out of various materials to race on different tracks while trying to snag the strategically placed star before finishing. Little kids will have fun just building and racing; my daughter, however, is very much into the physics of creating the car that will win her both the race and the star.


Ed Emberley's Shake & Make

I grew up with Ed Emberley's drawing books, so I was thrilled to be invited to try out CMP fave developer Night and Day Studios' app collaboration with this well-loved artist. The aim is to deconstruct and reconstruct various drawings like a puzzle before the time is up. Since its initial launch, the app is much improved, with lots of levels to keep kids (and yes, even adults) busy.

Purchase Albert, Go Car Go, and Ed Emberley's Shake & Make at iTunes.com