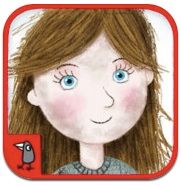 Though I've known the story of Cinderella for about four decades, I've got to hand it to the talents at Nosy Crow for freshening it up into an entertaining, engaging and interactive story worthy of 2011.

Using the same playful attention to detail that made us instant fans of their Three Little Pigs app, Nosy Crow's Cinderella draws kids into the story by letting them participate in it. My kids love helping Cinderella with her chores, especially when she so kindly thanks them in her lovely English accent. They also can help pick out her dress, search for the mice who become her carriage horses, and even change Cinderella and the Prince's dancing music from courtly to Studio 54.

And with the front-facing camera on my iPad2 and iPhone4, my kids freaked out seeing their heads appear in "magic mirrors" right in the story!


With three different modes, I like that more confident readers can read the story and character quotes to themselves, while new readers can have the story read to them. Also, one feature us parents will appreciate is that with every tap of a character it says something different.


Don't be surprised if your kids can't get through the story in one sitting—there are so many things to tap, drag, play and watch. And, while the price tag reflects this four-star content, we think it's totally worth it for the ball you'll all have getting Cinderella to the ball. -Christina

Download Nosy Crow's Cinderella for the iPhone, iPad or iPod Touch at iTunes. You can also get a sample of the app for free with Cinderella Lite.