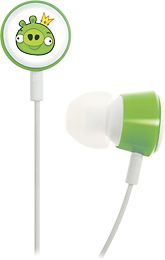 Why are earbuds the perfect holiday gift? They can drown out the noises in the coffee shop or the back seat of the car. You can never have too many of them. They're just the right size to slip into a stocking. They're a great way to make sure you'll never have to hear your kids' Justin Bieber album.
And now that they come with Angry Birds characters on them, there's one more reason.


The Angry Birds Tweeters from Gear4 are our favorite kind of tech find: cute and functional. They come in four colorful flavors of furious avian and one perplexed looking king pig, but they're far from a toy. With a 9mm driver, these tweeters should provide a decent listening experience. They also come with three different sizes of soft earbud tips.
Unfortunately, that means the kids can't hear you telling them to put away the iPod and clean their rooms. .~Delilah
Find Angry Bird Tweeters at Best Buy. Right now, some styles are sold out online but may be available in stores. Angry Birds Tweeters are on backorder from Gear4–and may be worth the wait.