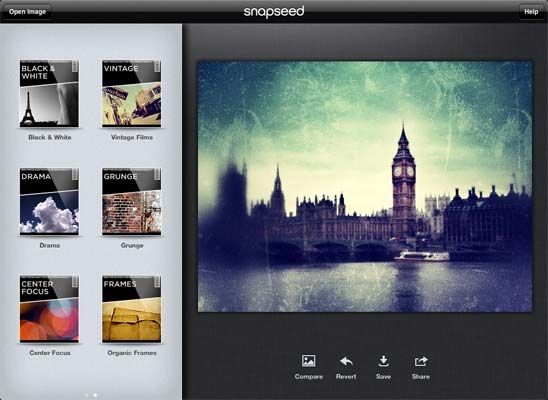 Now that Google is closing down Picnik, any suggestions for what I can use to edit my photos? -Delilah
We were definitely surprised to hear that Picnik is shutting down. I've used it many times to quickly and easily edit photos, and while it's a bonus to have
free access to Picnik Premium until April
, you're better off finding alternatives now. Good thinking Delilah!
Here are a couple of our favorite online photo editing sites.

Snapseed

If you're a Mac user,
Snapseed
(above) just announced it will offer desktop availability of its popular mobile app–which happened to be one of our
top editors picks of 2011
.
This comprehensive photo editing app will provide you with everything
you need to make those whites whiter, the smiles sharper and cropping to
remove Uncle Bill's photo bombing attempt from the background.
On
the downside, it's not free–the desktop app will be available at the
Mac App store for $19.99, or grab the mobile app for iOS from
iTunes
for $4.99. But if you're a big photo editor, it's totally worth it.
FotoFlexer
For more basic (and free) editing capabilities,
FotoFlexer
is
a smart choice. Simply upload a photo and the interface allows for
cropping, adjusting color balance, adding photo filters, and all the
basics. There are also are more advanced options like adding text,
fixing blemishes (who doesn't need that feature) and adding border.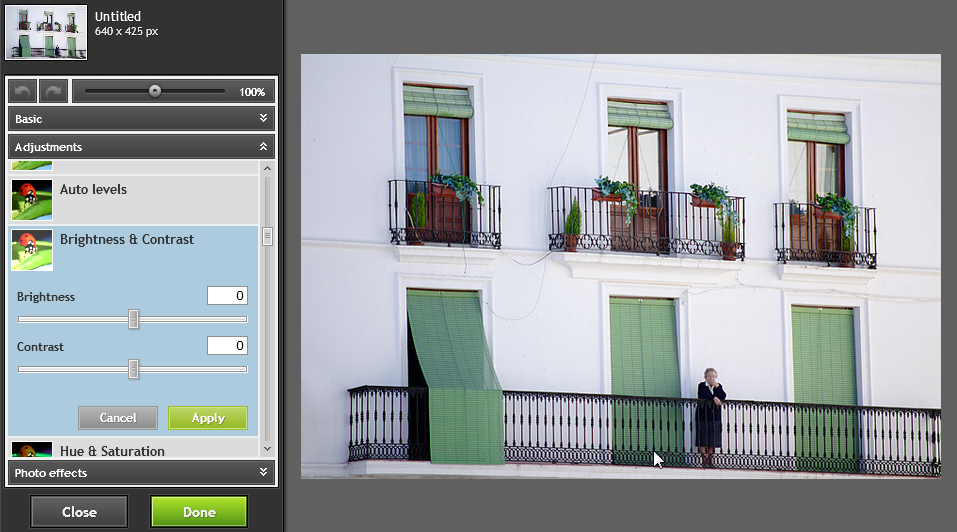 Pixlr Express
Another great site is
Pixlr Express
.
It recently launched and is a quick and easy way to moderately or
drastically edit photos, depending on your needs. In addition to fun photo effects like "bubbly"
or "foggy," there are also quick ways to enhance portraits with
features like red-eye removal and teeth whitening (hi coffee drinkers!). Of all the sites listed here, I find the
interface to be the most intuitive and modern. Also available as a free
Android
or
iPhone
app.
Photoshop Express Online
There's no need to plunk down several hundred bucks for Photoshop when you can access
Photoshop Express Online
for free. While it's not nearly as feature-rich as the software
program, it offers plenty of photo editing options that will likely be
more than sufficient for what you need. Other fun effects online include
Dodge and Burn (making certain spots lighter or darker), Crystallize
and Pixelate. Photoshop Express also offers a fantastic free app for
editing photos on-the-go with
Photoshop Express for iOS
and
Photoshop Express for Android
.
As long as we're talking iPhone apps, I also have to mention one more: the
Camera+ App
. It's a great overall program for taking and editing photos, especially for those of us with lots and lots of special family moments to capture.
-Jeana