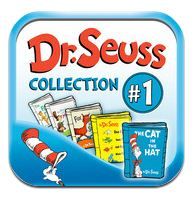 What parent among us has not relied on the genius of Dr. Seuss to keep our kids entertained with his wacky rhymes and memorable verses? When my kids were younger, I would literally walk around with sentences in my head like, "wet foot, dry foot, low foot, high foot."

While we already loved Oceanhouse Media's excellent Dr. Seuss apps including their most recent collection of lost Dr. Seuss stories for iPad, we're especially excited that now they've introduced an entire collection of some of the most loved Seuss books.


The new
Dr. Seuss Beginner Book Collection #1
contains five Dr. Seuss favorites:
The Cat in the Hat, One Fish Two Fish Red Fish Blue Fish, The FOOT Book, Mr. Brown Can MOO! Can You?
and
Fox in Socks.

The compilation of books creates a mini
Seuss library on your iOS device and keeps these classics on hand at
all times. You'll find the virtual books are just like the hard copies you have in
your library, but with fun sound effects and the ability to tap anywhere
on screen to hear additional words like, "sky" and "door." Plus each book
offers an option for your kids to read themselves or be read to. They're very, very well done.

As far as single apps go, the price may seem high
with a tag of $11.99 for the collection, but break it down and that's just
around $2.50 a book. Compared with the hardcovers, that's a steal. Or a deal. It's a steal of a deal that a seal would find unreal. (I know, I'm no Seuss.) -Jeana