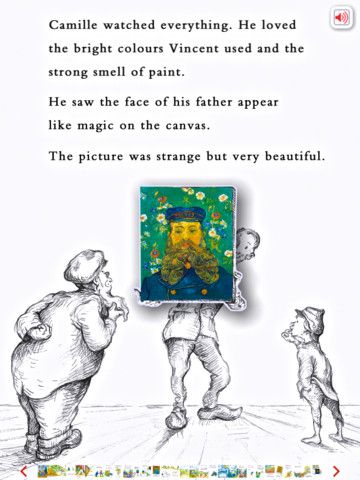 Even though I managed to pull a strong B+ in my college Art Appreciation class, my art history is a little rusty all these years later. And Van Gogh? Beyond the usual "ear incident" and the iconic sunflowers and starry night, my wealth of knowledge begins to run dry.
So when I opened up the
Van Gogh and the Sunflowers app
on my iPad to show my kids, turns out I was having as many "
Wow! I never knew that
!" moments as they were.
The app itself really is a work of art. Based upon
the book by the same name written by Laurence Anholt, it is the story of
a boy named Camille and his family who befriend the odd-ball painter
who suddenly shows up in their town and moves in to a little yellow
house just down the street. While everyone in town rejects this strange
artist, Camille's family shows compassion and tolerance for the quirky
painter.
The
text itself is beautifully written and poetic, but the book is more
than just its story. The pages are filled with beautiful watercolor
illustrations, the story read aloud in a deep, mesmerizing voice, and
children can interact with almost every page–painting, a virtual Van
Gogh exhibit and even some physics thrown in as well.
By
tapping on each moving character, the app opens up a page where kids
can paint each scene themselves. Not only that, for those less painterly
kiddos, behind each moving character a world of gears and pulleys can
be discovered. Playing with these pages and reassembling the moving
system unlocks even more interactive pages as the story progresses.
The
app holds something for everyone and I'll bet almost every child in
your house will find something to love inside this story. And you'll get
a short-course in Van Gogh art history–much more interesting than the
one you sat through in your college days.-Molly