As a frequent social media user (who isn't these days?), I've often wondered about what all my tweets, posts, and status updates say about me. Personally, I'm hoping mine would be summed up with "fun, smart, and obsessed with Ryan Reynolds" but it turns out that's not exactly the case.

If you've ever wanted to know the digital picture you're painting of yourself–let alone your kids who are online (eep!) –we just found this amazing new tool from our sponsor Intel that's beyond fascinating. Not only does What About Me? capture a snapshot of your social media life, but it also whips it up into a cool, customized infographic chock full of information about your digital habits.

You will not be able to resist, trust me.

{After the jump, check out my mildly embarrassing digital snapshot from What About Me?, plus an AMAZING $500 gift card giveaway for one lucky Cool Mom Tech reader after the jump!}


If you've got a few minutes to spare, you can create a custom
What About Me?
infographic using their digital tool. Give permission, and the tool will take a peek at your Facebook account, as well as Twitter and YouTube if you choose, and provide you with a colorful infographic that you can can save, share, or hide forever in shame. (Ha.) Keep in mind, it's definitely heavier on the Facebook results.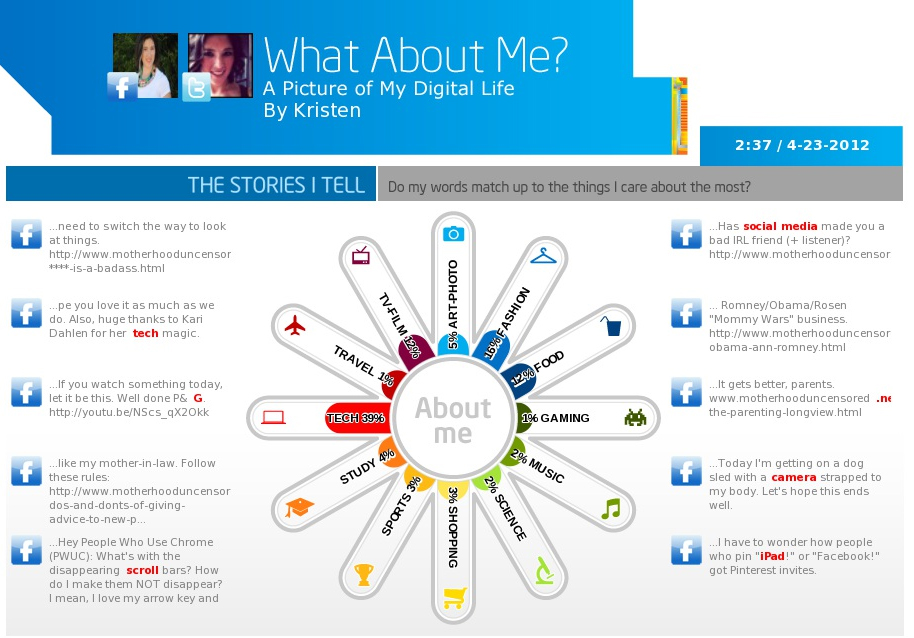 As it turns out, I post most about tech (39%), which isn't completely surprising considering–well, here I am. Talking about tech. However, since What About Me? only accesses your personal social media info and not any fan pages you might have, it's clear my work with Cool Mom Tech is rubbing off on me. Note to self: Post more about Ryan Reynolds.
Fashion was a distant second, in case you're wondering. Hey, at least I'm somewhat diversified.
It's also really cool to see how What About Me? breaks down the way you're interacting with social media. Apparently I'm a big sharer of links and the work of others, but not a big "liker." Maybe it's the old school blogger in me who prefers comments over likes, or that I'm a bigger Twitter user than Facebook. But I'm definitely going to try to offer a few more likes now that I've seen this information.

Also it tracks when you're using social media most, and it turns out I'm not the night owl I had imagined myself to be. Evidently I have a stellar opportunity to dial up the commentary during Real Housewives episodes.


Finally, I definitely appreciated the snapshot of who I'm interacting with and whether we're alike. It's no surprise that my Cool Mom Picks partner Liz is someone I engage with on a frequent basis, as well as my sister-in-law and my neighbors. And in a weird, useless but totally fun bit of trivia, it turns out that two of the people I chat with most happen to be my same astrological sign.

For the few moments it takes to try out the
What About Me?
app, the information you'll get about your habits is intriguing and super fun. And while it might not necessarily change how you use Facebook, Twitter, and YouTube, it definitely offers you a glimpse into how you're using it in a way I've never seen before. And let's just say it's an interesting glimpse into how your kids are using it too; should they be daring enough to try it out and show you the results. -
Kristen

** Update: This contest is closed! We will announce the winner soon. **


EXTRA COOL: WIN IT! Our sponsor Intel is generously offering up a $500 Best Buy gift card to one lucky Cool Mom Tech reader! Maybe so you can grab a shiny new laptop or tablet and start fresh with your social media habits?

TO ENTER: Make your own What About Me? infographic, AND then leave a comment telling us the 3 topics you post most about and their percentages. Pretty easy for a $500 gift card, huh? You have until SATURDAY 4/28 at midnight PT. **The winner will be required to share the infographic with us to confirm eligibility. (Don't worry, we won't post it.)

FOR ONE EXTRA ENTRY: Share the link to this post on Twitter (you must include @coolmomtech – and make sure you're following us!) and link to it in your comment below. Please see our general contest rules for more details.

For more awesome prizes, you can join in the #SocialButterfly Twitter party hosted by our own @techmama and @littletechgirl on Monday, May 7 at 8pm EST.