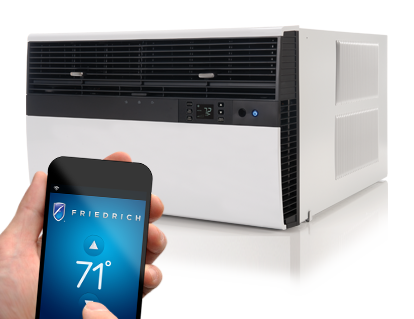 Just when we're getting used to the idea that your smartphones can control your sound system, Friedrich has now invented a space-age air conditioner that you can control remotely with your smartphone, computer, or tablet.

Pretty cool, right?



From Belkin's WeMo and the Nest Learning Thermostat, we knew larger appliances were coming next. And now, later this summer, you should be able to install a durable, powerful, quiet Kuhl Air Conditioner by Friedrich that can be controlled remotely by your phone.

As in, remotely.

Got held up at work? Going to zip home for a nap? Just realized that the dog is probably burning up? No problem. If you've got wifi and a smartphone, tablet, or computer, you can blast the blow from anywhere.
The unit itself looks pretty sophisticated with Smart Grid technology, savvy German engineering, air quality filters, a high energy efficiency rating, and… wait for it… six different colors, including Pink Diamond. The only catch? We don't know how much it's going to cost or when it'll be available.

Still, pretty Kuhl, right?~Delilah