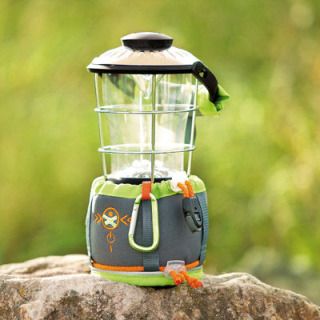 Whether
we're camping, trying to catch fireflies, or just going out to the
beach to watch the waves by moonlight, my kids like to have a little
light nearby to keep an eye out for those things that go bump in the
night. And while flashlights do the trick, I love the looks behind a
sturdy and camp-worthy lantern that gets its power from a little crank
of the handle.

This lantern from TerraKids, a division of long-time CMP favorite HABA,
is more than just a fun little lantern toy that kids can use to
"pretend." I am totally impressed by the looks of this toy which doesn't
look all that different from my larger Coleman lantern though this one
from TerraKids doesn't use propane and flame.
Instead,
just wind up the crank at the back and the tiny generator inside
activates the bright LED lights. And while the crank is fun to turn for
kids, they should only use it when the light goes dim so as not to wear
out the generator's accumulator.

(Included with the lantern are little
cards that explain how the generator works, hence my proper use of
"accumulator.")
Along with the light, the
lantern has some other nifty features for your little outdoorsman, like a
carabiner to clip the lantern to a backpack and a padded handle to make
carrying it more comfy. It all seems pretty sturdy though based on some
of the reviews on Amazon, I'd say it is probably best handled by older
kids who aren't too terribly rough on their toys.
The
light will last for about an hour, or long enough for a few s'mores
around the campfire and a bedtime story inside the tent. But if you need
to shut it off before then, there is a push-button on/off switch. This
can be a bit tough for little (and even big) fingers to click.
But,
hours after bedtime, when someone needs you to take them to the
bathroom down the path, just grab the lantern, click it on and light the
way. -
Christina