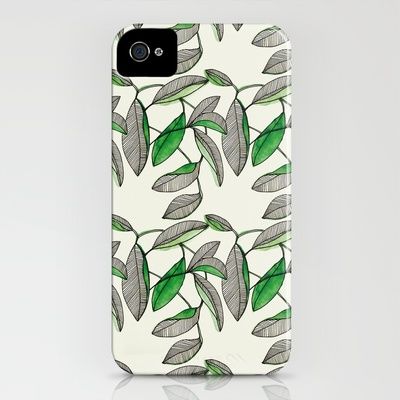 My iPhone is in one of those heavy-duty, drop-off-a-building cases that gives it great protection, but is definitely not all that stylish. But with summer here, I'm ready to dress it up in something a little sleeker and prettier, especially for those times when I won't be worried about one of my kids dropping it off a building. Or down the stairs.

Graphic designer Marina Molares, whose Pinterest board of patterns she designed we swooned over recently, dresses up the sleek silvery iPhone with her lovely Watercolor Leaves iPhone case. I love the delicate pattern with little bits of green showing to give is some pop.
And I appreciate that it is made of impact-resistant hard plastic, since I can be way harder on my phone than the kids. Though those of you who are less apt to drop it may prefer the pattern on an iPhone skin for extra sleekness. Either way, this is one pattern that will look perfectly in style this summer.
-Christina