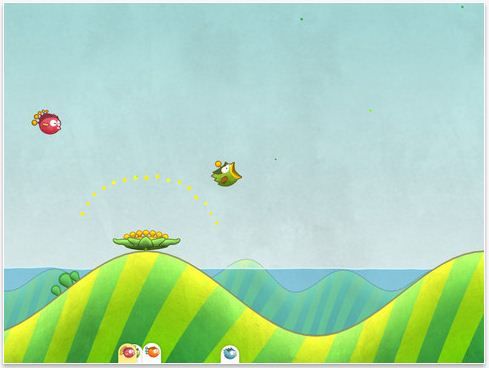 After Liz turned me onto Tiny Wings, I too have become one of the many who have fallen in love with a whole different set of birds, none of which are angry. When I thought the game couldn't get any better, it did with its new 2.0 version, just recently released.

While the concept of using hills and dips to get your bird
to soar higher and higher is essentially the same, the new version
comes with many bonus features, most notably, a new "Flight School" mode
which provides 15 new levels. (Yay!) While in Flight School, you have new
landscapes in which to soar, you can race your bird siblings, and collect points as you race to get to mama bird. Aww.
As part of its big update, Tiny Wings is now also
available in HD for iPad which will make the gaming experience that much
better. The game also comes with iCloud support, so you can pick up on
your iPad where you left off on your iPhone.
If you
already have Tiny Wings, the update is free, even though it's
essentially a new app. Those who don't, it's just $0.99. Trust me and
Liz, it's worth it. -Jeana