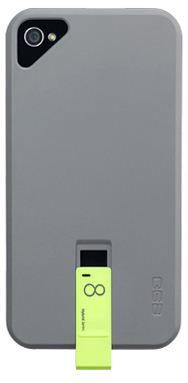 There are so many pretty iPhone cases out there that I covet, especially ones like this Watercolor Leaves case or this Van Gogh-inspired wrap case. But sometimes, just sometimes, fashion can take second place to function and this new Hybrid Series USB iPhone case with a built-in storage drive is a perfect example of that.

The USB drive slides right into the back of the case
and is a great option if you want to have extra storage with you at all
times. What's fun is that the cases and USB drives have interchangeable
colors, so you can pick and choose which combination best suits your
style. I'm partial to the gray case/red drive combo.
The drives are
available in 4, 8 or 16GB sizes giving you A LOT of room for extra
data. Even if you use cloud-based storage through
Google Drive
or
Dropbox
,
you'll never know when you'll need more space for documents, kids'
pictures or the 60-minute video from your daughter's dance recital.
With
the Hybrid Series USB case, it's at the back of your hand, or case, in
this instance.
-Jeana

The 4GB, 8GB and 16GB cases are available now for $34.95, $39.95 and $49.95, respectively, at Ego&Company.