My kids have used their fingers and toes to help them understand numbers and counting from the days of 10 Little Monkeys Jumping on a Bed through basic addition. And now there is a new app that uses technology to help reinforce these concepts with your iPad though, thankfully, no toes are needed to play.

Little Digits is a unique app for toddlers and preschoolers that senses your child's touch to help them learn how the number of fingers on the screen correlates to a number symbol like "5".
The most basic of the three activities simply "reads" how many fingers are touching the screen. A crazy cartoony number appears along with a child's voice saying the number aloud. It's a clever way for a child to work their way through the numbers up to ten and back again.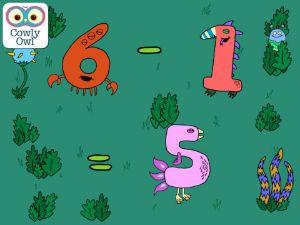 After they get the hang of it, move on to basic addition and then subtraction equations, where instead of typing "4" to the question 2+2=?, the child uses their touch to answer the question.
Though the child's narration is pleasant, I wish there was a way to mute the background music which grows old quickly. And I'd love for the app to provide some aid for a child who is confused by an equation. But, overall, for kids who love to put their hands all over everything, here's a way to channel it into a little math practice. Just check for jelly on their fingers first.
-Christina