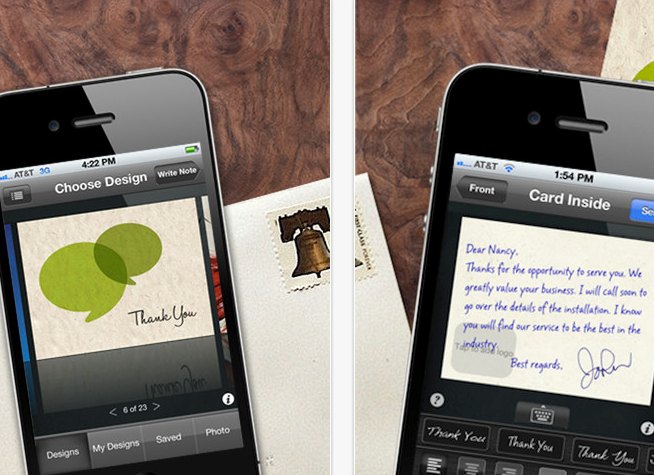 The more kids I've added, the worse I've become at sending paper thank you notes. Sorry mom! But now that I've downloaded this cool new app to my iPhone, I have absolutely no excuse any more, considering they even deliver the card right to my recipient's mailbox.

A real mailbox.

ThankYouPro
allows you to send stylish thank-you notes right from your iPhone with only a few clicks. Once I downloaded the app, I perused their designs which were all simple and modern, although with a more business-y kind of feel. In other words, none of them have that "Whee thanks!" vibe; but hopefully they'll add more fun designs soon.
You can choose from a myriad fonts and font colors, as well as add photos or your logo (if this is for business). And you can even actually sign the card with your own signature. Nice touch.You'll be asked to add your recipient's address as well as your own, both of which are printed in the font and that matches your card, and then ThankYouPro prints and sends it out for you — super fast, I might add.
The app and first card are both free, so it's definitely worth trying to see how you like it. After that, the cards start at $2.99, with discounts offered when you purchase stamps "in bulk" — a great option if you've just thrown a party or if you need to send them out en masse for work. But for someone like me who's always sending thank yous super late–or um, never–this app is genius. -Kristen
You can download ThankYouPro app for free on iTunes and the first card is free.