Here's some of our favorite links of the week. We hope you'll like them too.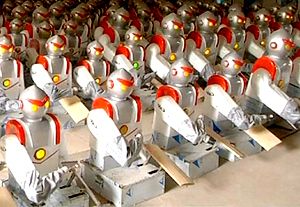 They're not android soldiers, they're Robot Noodle Chefs! [via geek sugar]
Apple is offering it's annual back to school discount for college students and educators, on Macs and iPads. Tell your kids' teachers!

What's the #1 most watched TED talk to date? One of our favorites, in fact.

An LA restaurant gives a discount for staying off your cell phone. How very…San Francisco?

Have you seen the leaked official iPhone 5 video? Hilarious parody.

Coffee fans will love this new invention that needs funding on Indiegogo. We want one!

A case that turns a phone into a stun gun? We thought it was a joke at first

Oceanology fans will love this: Foursquare for tracking sharks

Great post on the toxins in your technology and why it's important to recycle, not toss.