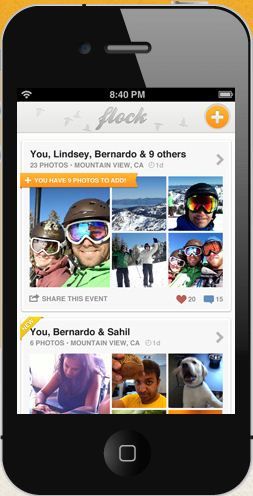 I just returned from a fabulous adults-only trip and after looking through my camera roll, realize I was too busy reveling in the sun, surf and eating meals without interruption to take many photos of the splendor.
Thankfully, my travel mates were more camera-ready than I was and will send me the great photos they took of our three days in paradise.
If we were all using the
Flock
app though, all of our photos would automatically be combined into a shared album on our phones.

Flock relies on "battery friendly" location-based technology
(and your Facebook network) to figure out who you're friends with and where you
were together and then it just somehow knows to group photos of shared events
together.

While I'm a bit iffy on the location tracking technology and related privacy issues, I
appreciate that Flock gives you full control over which of your photos
get shared and accessed. And also gives you authority for deciding if
those photos get posted on Facebook.
Couple
things need to happen for the Flock app to work: 1) You have to be using
your iPhone to take the photos, and 2) In order for everyone's photos
to be combined into a shared album, everyone needs to be using the Flock
app.
Assuming that the people you hang out with the
most use the app, I can see this being really useful for group
gatherings like birthday parties, holiday celebrations, dance recitals,
adult-only trips (yay!), and any other events where it's likely someone
got just a few more pictures than you do.
-Jeana