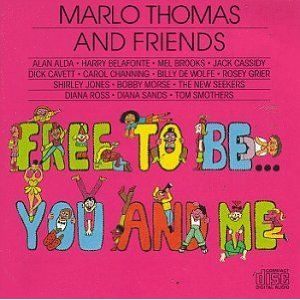 As a child of the 70′s, I grew up listening to
Free To Be…You And Me
, a groundbreaking CD which promoted messages like gender equality, being comfortable in your own skin, and tolerance, all through song, spoken word, and humor.
This month, it turns 40 years old (wow!) and, though I have many favorites on this CD, it's the title song that fills me with as much hope for the future now as I felt as a child.
Sung by British pop band The New Seekers,
Free To Be…You And Me
still gets me choked up with optimistic soaring lyrics like these:
Come with me, take my hand/ and we'll live / In a land where the river runs free/ In a land through the green country/ In a land to a shining sea/ And you and me are free to be/ you and me. . .
Especially in these crazy heated days leading up to the election, this will be one song I'll want my kids to hear over and over again to remind us of what this country is about. -
Christina