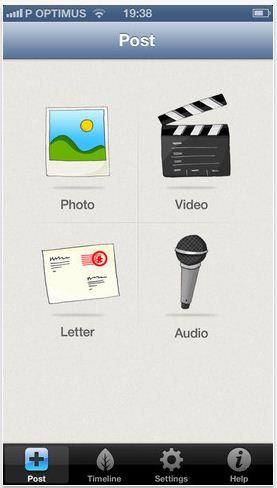 As parents, I know so many of us keep some kind of record of our funny kid-isms (they do say the darndest things, right?), but a new service called Limetree will now let you record all of them in one place.

Limetree
is both a website and a
mobile app for iOS
which lets you chronicle pictures, videos, and funny sayings from your kids in an
ongoing timeline of events both big and small. The app creates a virtual journal of audio
and video memories, and I love the ability to also write letters to your
children for when they access this account later on in life.
It's a great alternative to a blog (for those of you who are not bloggers) or a public Facebook timeline where you might not be sharing so much about your kids.
Plus two parents can contribute to the same
Limetree account which makes it great for having more than one
perspective on funny things that your kids do. The app design is very
simplistic, but it works and is easy to input and find information, especially
when you want to record something quick before you forget it.
As for me, my daughter learned the word survey and
decided to "survey" her brother with this one and only pressing
question: "So….how do you feel about having legs?" That's going right into my Limetree account. - Jeana

The Limetree app is available for free on iTunes. The free account includes storage for 250 photos/5 minutes of audio/5 minutes of video and unlimited notes/letters for one year. Two additional pricing plans with more storage options are available for $19.99 and $36.99, respectively. For more information, please visit Limetree's pricing page.