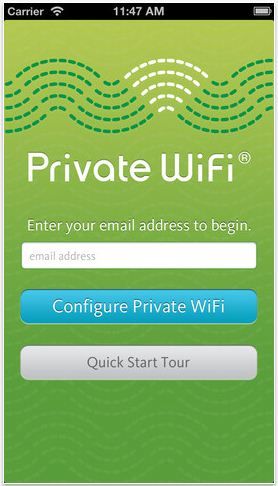 Having worked with a security company for years on the PR side, I'm super vigilant about what information I put out there, and more importantly, what networks I use to access information. (Those cybercriminals are more sophisticated than you can ever imagine.) I never do any kind of online banking or shopping from an unsecure WiFi network, but with the new Private WiFi app for iOS, I finally have the option to do so.

This one is a game changer.

Private WiFi is a simple app that automatically
gives you bank-security encryption on all public hotspots and WiFi
networks. Genius! The app utilizes whichever public WiFi network you're
on, but automatically turns it into a VPN (virtual private network),
rerouting your data through a secure server that is hosted by the app
company.

In layman's terms, any passwords, pictures, credit card numbers, bank account
information, or anything that a hacker would be interested in, is now off
limits.
Setting up the app is a multi-step process, but quick. Once you download the free app, you'll need to configure the program onto your phone by following the step-by-step directions. When you're ready to do a little shopping or money transferring, you
simply turn the VPN option on in Settings.

You know it's on because you'll see a little VPN
icon running at the top of your phone.
The
app is free for up to 500MB of data, but after that, it costs $1.99 for
1GB and $7.99 for 10GB of data usage. Depending on how much you're
using those Starbucks or airport networks, the 500MB free option should be
sufficient for light browsing and communicating while you're sipping
your coffee. But as far as I'm concerned, safe data is a bargain at pretty much any price. Trust me, I know too much.
-Jeana

Private WiFi is available as a free download from iTunes. An Android version is in the works.