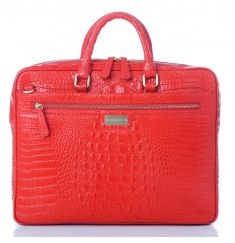 As I find myself stuffing more and more gadgets into my handbag while still carrying everything my kids need, I realize that maybe the gigantic tote bag isn't the way to go. And these new, swanky laptop cases might have just sealed my brilliant decision to downsize.
The Brahmin gadget cases from their new Gadget Love collection might just convert you too. The laptop case (love the color, Firecracker – above!) is a swanky option, though definitely more business-y with the double handles. There are plenty of pockets, and more room for extras if you happen to prefer using it to carry your iPad or smaller laptop.
If you're looking for something that's more versatile, I love the
Theo iPad/Tablet bag
(pictured) as well as the
Tablet Flap
both of which are available in a slew of fabulous colors and comes with a cross body strap and an extra section for credit cards and your cell phone, so you could actually carry it as a purse when you don't need to carry your tablet with you.
I've also got my eye on the
new iPad clutch
, which would double as a fabulous evening bag, particularly in the shimmer. Gorgeous!
They're definitely on the splurgey side, but certainly an investment that will go a long way in keeping your laptop or your tablet safe in a bag that will never go out of style.
-Kristen