As an avid iPhone camera user, I generally use Camera+ to shoot my cell phone photos, and then upload it to Snapseed for editing before sharing on Instagram. Phew! But recently I was introduced to a cool new app that has all my favorite features of all the editing apps combined. And wow, is it awesome.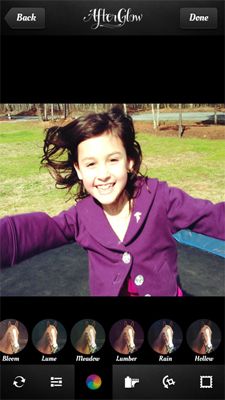 Afterglow Photo Editor is a fantastic iOS app that allows you to shoot and then edit your photos in myriad ways. Once you take the photo in the app–or upload a photo you've taken directly through your phone or an app like Camera+ –you've got a host of amazing features that give you more control than any other photo editing app I've found.
At the bottom of the screen, you'll find a series of icons, which give you access to various settings, so click the little meter if you want to change the exposure, contrast, and brightness. The color wheel gives you a ton of filters (holy cow), all of which are customizable with a slide tab, allowing you to bump up the filter or take it down subtly. In fact, because there are so many filters, take my advice and remember the names of your favorites for the photo you're editing, otherwise you'll forget which ones you liked!
Also, what I love about Afterglow is that you can layer multiple filters, something you don't see in most photo apps.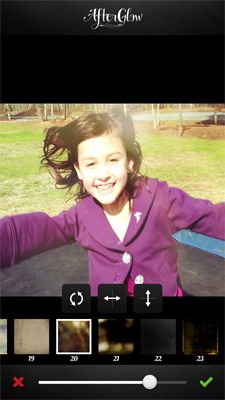 You can then pick cool film overlays, which you can customize and move around your photo with an easy couple of clicks.
There's also cropping, flipping, and rotating, as well as my favorite, the twist and zoom, which I used in the photo of my daughter above.
If I had to pick my least favorite feature of the app, it's the frames, which aren't as fun as the other apps I've tried, but trust me, it's a small criticism and one that would never deter me from using this app.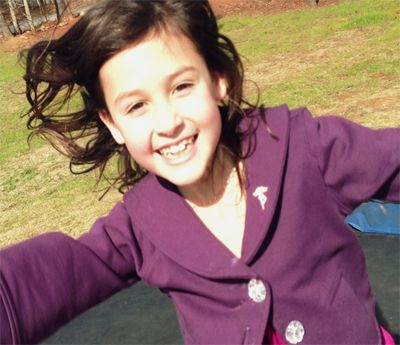 Of course you can save and share, even turn your photos into postcards (for a fee), right from the app, which to makes this super handy for parents. Just be warned: With so many addictive features, consider saving the editing for when the day is over, and not right after you've taken the awesome shot of your kid. After all, you don't want to miss the next great moment because your head is down over your iPhone. -Kristen
You can download Afterglow Photo Editor on iTunes for $.99