With the explosion of fitness tech, we've seen a ton of cool activity trackers, like the Jawbone UP, FitBit Flex, and Garmin vívofit. Now we've found one that looks prettier and does even more than the others: The Misfit Shine.
The Misfit Shine not only tracks walking, running, cycling, swimming, and sleep, it's actually stylish. For real!
The disc comes in an array of beautiful colors, like topaz and coral and storm which sound like they're right out of a J Crew catalog. You can also wear it a variety of ways like on a sport band, as a necklace, or with a leather strap. Of course you can use the magnetic clasp to hold Shine in place somewhere out of sight, but I think it's so gorgeous you probably won't want to hide it.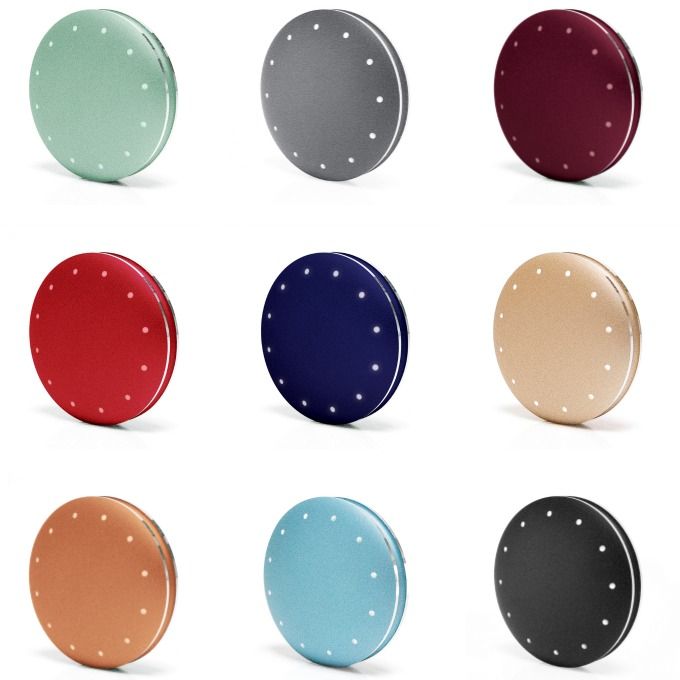 Like most trackers, Shine has a compatible  Misfit Shine activity tracker app (both iOS and Android, yay!) where you can check your activity status and look back over your history right on your phone. You can also double-tap the Shine disc to see how much progress you've made that day based on how many lights are lit, similar to how the FitBit Flex monitors progress right on the band.
Nice bonus: The Shine uses a coin cell battery like the vívofit, which means you don't have to charge it weekly.
Now here are some differences from other fitness trackers. They tend to measure activity solely in terms of steps, while Shine uses a points-based algorithm. That means cycling and swimming count toward your daily activity goal, which is a huge plus for those of us who do more than walk and run.
If you're serious about getting the most accurate tracking during workouts and not just counting steps, wear the Shine on your wrist if you're swimming, or on your shoe if you're cycling. Then Shine gauges how hard you're exercising: More intense activity means more points.
Walking and running are tracked automatically, but cycling and swimming require you to set a tag, which just means you triple-tap the Shine face and the lights flash to confirm. Unfortunately, it can be hard to see that the tag has been set successfully if you're outside in daylight, but I always found that Shine tracked my cycling and swimming perfectly fine.
Like the Jawbone UP24, Shine offers a smart sleep alarm, but it's not as user-friendly. The Shine app has to remain open all night, and even though you can dim the screen, it definitely drains your phone battery. I've also grown to prefer the kinder, gentler vibration of the Jawbone UP alarm versus an audible alarm but that's going to be a personal call for you.
I must confess I did lose the Shine disc out of the sport band once–and that seems to be a common complaint–but fortunately I was at home and found it easily. Still, I might not rely on that one even though it is inexpensive.  As for the other accessories, the magnetic clasp seems far more secure to me, and the new leather band and Bloom necklace (shown at very top) also look secure. And pretty.
All in all, I'd definitely recommend the Misfit Shine, especially if you're both style-conscious and active enough to incorporate cycling and swimming into your fitness routines. Yes, you can be both. And I appreciate that Misfit Shine sees that too.
Get all the details about the Misfit Shine activity tracker on their website, and download the iOS or Android app once you've decided what color Shine you love best.