When I think about high-tech headphones, I don't usually associate them with natural materials like wood. But some big brands are now making eco-friendly headphones that sound amazing with beautiful, earthy textures instead of the glitzy metals and plastics I'm used to. Plus, they're infinitely more sophisticated than my daughter's hot-pink dollar-store set I've been borrowing lately. And uh, they sound a whole lot better.
Related: 5 of the best sports headphones for women (and other folks with small ears)
The Rise Up over-ear headphones that we discovered from House of Marley still remain a favorite. They are eco-friendly throughout, from the bamboo cushions to the recycled aluminum headband and recycled cotton and hemp fabric. Of course, the sound is amazing too, and the remote with a microphone built in makes it easy to change the volume or switch over to a FaceTime call. We think the Rise Up headphones are House of Marley's most comfortable pair, and they're on sale for an amazing $100 off right now. Go!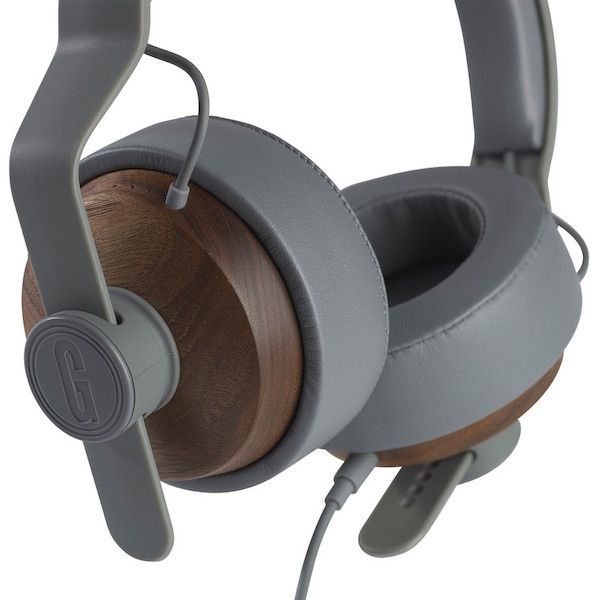 Grain Audio's wood-grain over-the-ear headphones (also shown at very top) are not just beautiful, they sound great too. The listening quality is clear with a lot of dimension to it. And the memory-foam ear cushions are comfortable enough to wear through a Game of Thrones marathon, while your partner is sleeping or your kids are in the next room and don't need to hear the sounds of pikes through skulls. Note: they also work great when you are wearing a shirt, unlike the model in the photo. Just saying.
We've also been seriously impressed with the small Brooklyn company Grado Labs, and I love their Bushmills x Grado Labs headphones, which are made from recycled white oak barrels from Ireland's Bushmills distillery. Have you ever seen a more beautiful pair?
If you're on the go a lot, earbuds are easier to tote around than over-ear headphones, but you don't have to sacrifice sound for convenience. There's a warm, natural quality to your music with the Bowery ear buds from LSTN, which are made by hand from reclaimed cherry, ebony or zebra wood. But this is a company that cares not just about sound, but about hearing too. For each pair purchased, LSTN helps restore hearing lost to a person in need through the Starkey Foundation. Pretty cool.