It's not like my kids need any additional reasons to get excited about Halloween — the costumes and candy and thoughts of staying up extra extra late do that for them — but still, it's nice that there are so many fun Halloween apps for kids that will satisfy some of their pre-holiday excitement until the big day comes.
I'll be honest though, a lot of Halloween apps for kids that I come across are kind of lame. So I've really spent some time looking for some great new ones as well as including a few older apps that we still adore and we think your kids will dig too.
Related: 6 of the most fun, parent-approved Halloween apps for kids
Storybots Halloween app for kids
What kid wouldn't want to see herself as a dancing vampire or werewolf? Or better yet, mommy as a mummy. Storybots, from the makers of the uber popular JibJab, cleverly lets your whole family become cartoony Halloween characters that even the youngest kids will find more fun than spooky. (Also shown at top.) We found this one a few years back, and it's still a favorite around here. Not just on Halloween. (Free, iOS)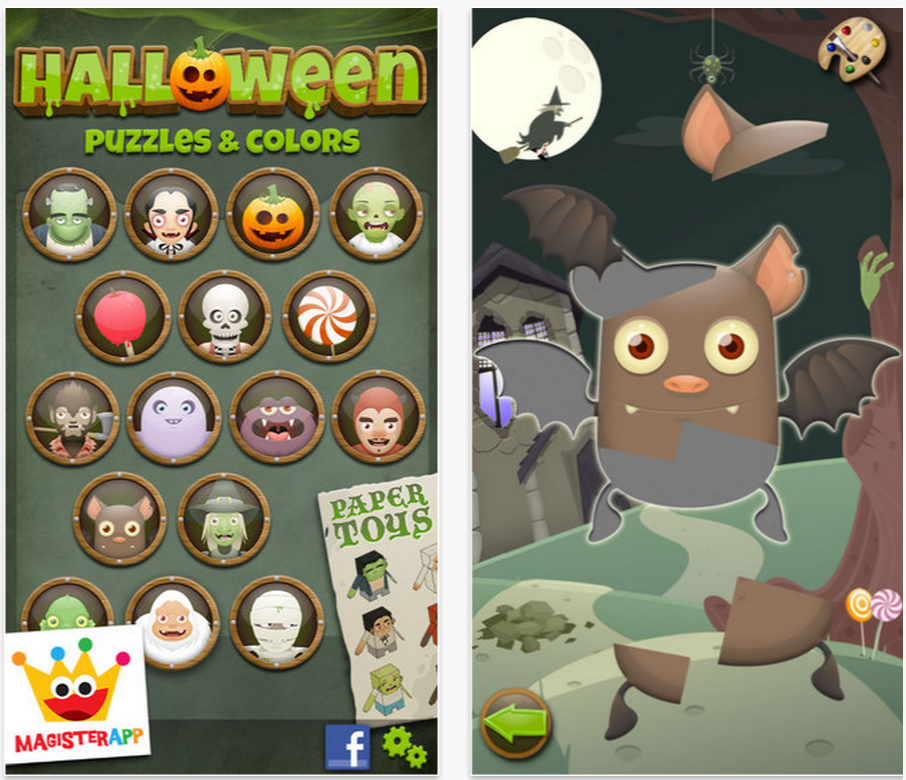 Halloween Coloring Puzzle app for kids 
The full version of this nicely designed puzzle app for younger kids comes with 16 different Halloween characters and objects that kids can piece together into a puzzle, or decorate themselves with a palette of colored pencils. Puzzle together a vampire, witch, monster, ghost, even a candied apple and lollipop. Bonus for crafty parents: The app includes templates for printable paper cut-outs that you can download to create actual 3-D tabletop paper monsters for even more Halloween fun. ($1.99, iOS for the full version; the free version comes with four puzzles and paper toys)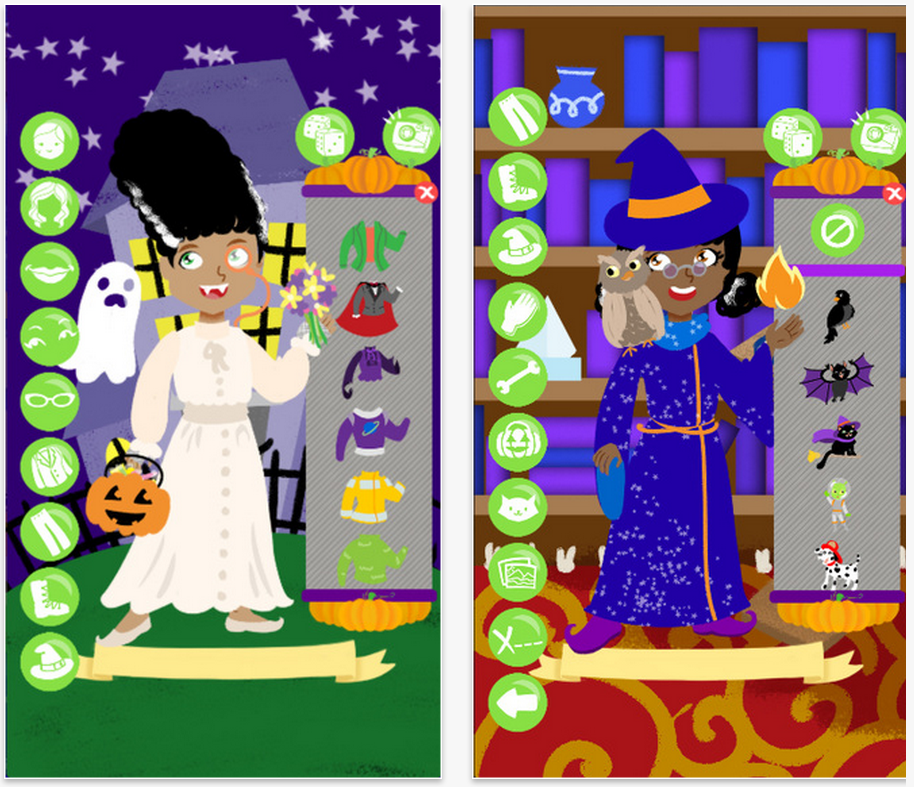 Halloween Dress Up Costume Party app for kids

Halloween is all about the costumes for kids (okay, so candy may play a minor role too), and this app lets kids dress up 19 characters, customizing everything from their eyeglasses to their shoes. I love that the characters range from Galactic Alien to Magic Wizard, Evil Witch, and Giant City-Stomping Lizard. But I do wish there were some more boy characters represented in the app, but otherwise it's fun for kids to change costume looks with a few taps. ($0.99 for iOS, Android)
Related: Toca Tailor Fairy Tales: Like Grimm's paper dolls meets Project Runway. Sort of.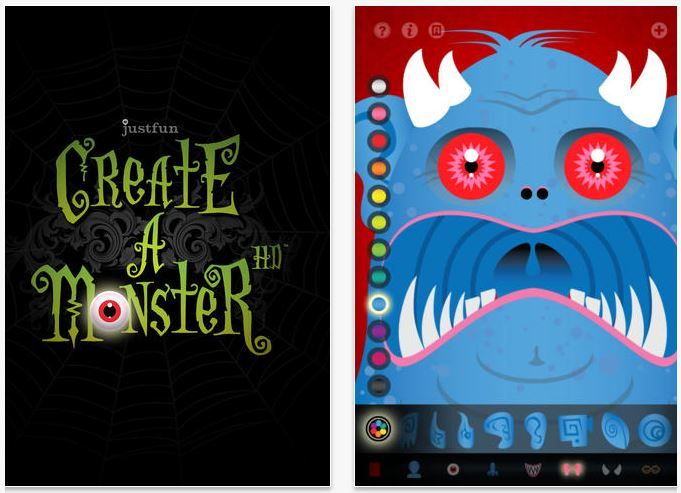 Create a Monster HD Halloween app for kids
Whether you like your monsters kinder and gentler, or classically creepy, the Create a Monster HD app, another favorite find from last year lets kids go to town and get creative. There are hundreds of combos of eyes, ears, mouths, eyebrows, horns, fangs and more, and when you're done, you can save or share via email or Facebook. ($.99 on iTunes)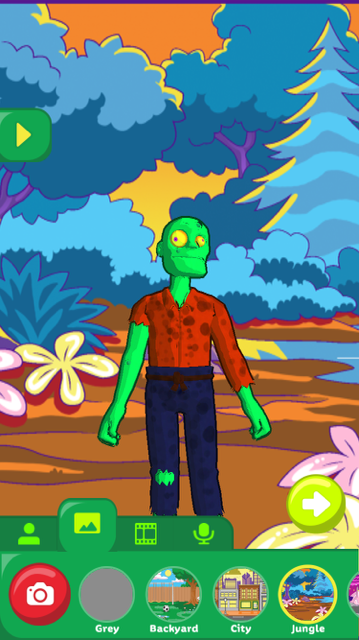 Crayola Easy Animator App for Kids

While this isn't a dedicated Halloween app, I did find a monster and zombie character within the app that make it perfect for the season — and then you can still keep using it even when Halloween is over. Kids get to customize one of these characters, pick a background and select specific actions like dancing, fast running, blowing a kiss or breakdancing and even record voices over the animation to truly personalize the animation. There's nothing like a breakdancing zombie to get kids in the mood. You can also use the app in conjunction with Crayola's Color Alive Easy Animation Studio if you already have that — or grab it for just $19.99 at our affiliate Amazon. (Free, iOS and Android)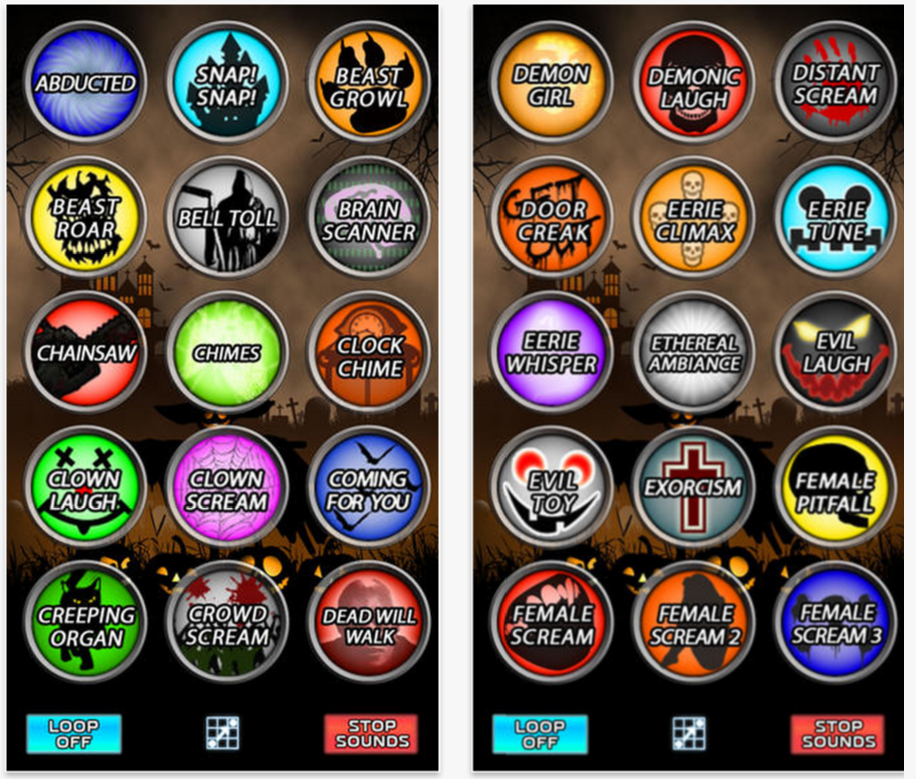 Halloween Spooky Sound Box app
For older kids who actually want to be scared and scare other on Halloween, this app really can send chills up your spine. Well, at least mine. With 50 sounds to choose from — everything from a ghost whisper to chimes to a creepy clown laugh (agh!) — kids will be sure to get their spook on with this app. Just make them promise not to surprise you with any of these sounds in the middle of the night. I'm not even joking about that. (Free, iOS; for Android, check out the free Best Scary Sounds app which is similar but looks a little more teen.)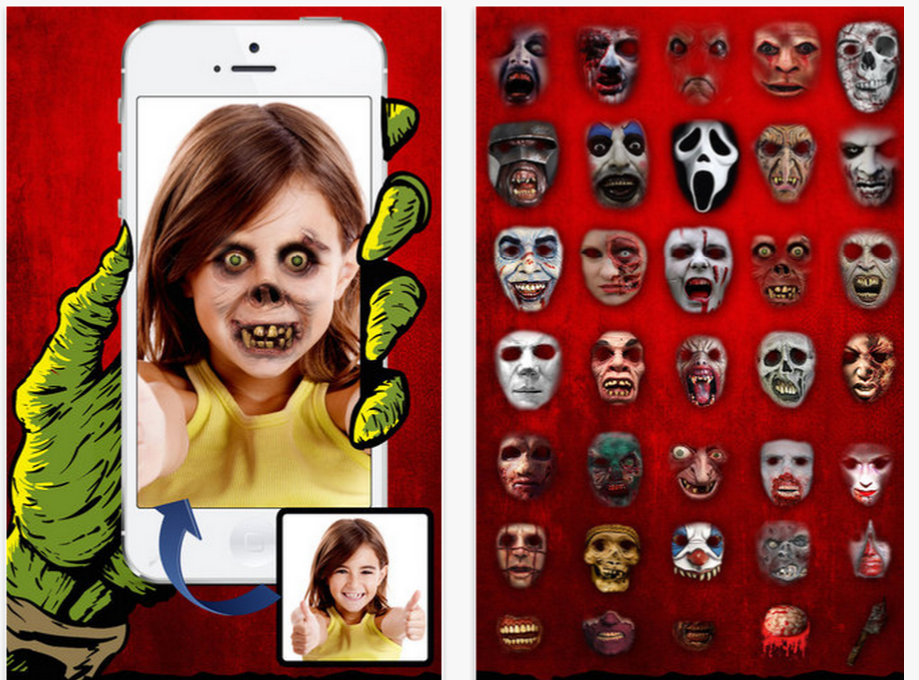 Zombify Yourself Halloween App
Not for the faint of heart, Zombify yourself is one freaky app that older kids will get a kick out of. That is, if they want to see themselves as zombies. Upload a picture and then watch in horror as the app transforms the face into an oozy, bloody, horrifying mess. Tweens and up will love it. Their parents and grandparents? Maybe not so much. But then, that's Halloween for you. (Free, iOS)
Related: The easiest way to Halloween-ify your photos from spooky to silly