Lately we've seen some really cool tech innovations that are inspiring the little artists in our house. While we're still big fans of crayons and paper around here as our go-to art supply, I love how that their creativity can carry over into screen time, too.
If your kids are into drawing and painting too, you'll want to check out these three cool tech art toys that might take their work to a whole new level.
CMT is an rstyle affiliate
Like most moms, I try to limit my kids' screen time. So coloring in our house is usually done on paper with markers. But when we travel, crayons tend to roll under seats on the plane — or melt all over the car. If you have this same problem, the Coco Color Stylus (at very top) can help. This digital stylus can color in more than 750 color, style and size combinations on their apps, and there's no Bluetooth pairing. You just turn it on and it works.
Currently there are two apps — Coco Color Doodle (iOS and Android), which has blank screens for open ended drawing, and Coco Color Voyages (iOS and Android), which is loaded with interactive coloring pages like the one shown here. Unlike some coloring apps where you simply touch a section and the whole area turns the color of your choice, you actually have to color in the entire section here, which I love.
Related: Digitize your notes and sketches with the new Moleskine Smart Writing Set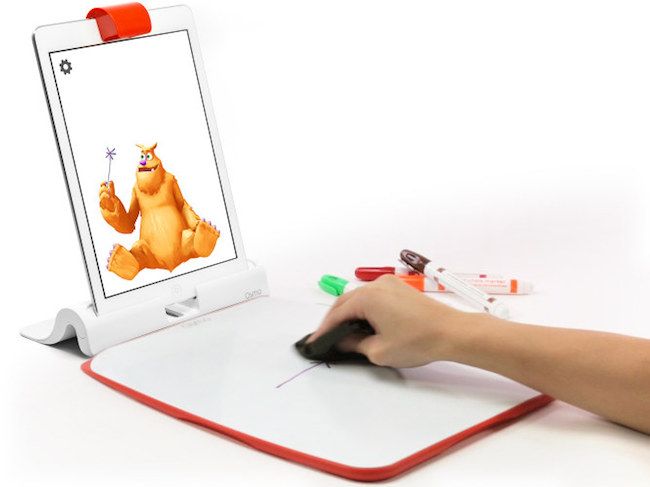 We're huge fans of the Osmo games for the iPad. These toys are smart, innovative, and let our kids use the iPad in ways we feel good about. Their latest game, Monster — part of their Creative Set along with Newton and Masterpiece — is an interactive animation experience, and we think it's amazing for kids with an artistic bent.
In the game, Mo the Monster will give your child prompts to draw certain things, starting with a simple wand. This is done on the whiteboard attachment that comes in the set. Then, Mo pulls your drawing up onto the screen and it's suddenly an animated part of the game. You'll draw more things as you go, all of them becoming part of Mo's world. Kids who hope to one day work for Pixar will love getting their start here.
Related: Create amazing 3D drawings for free with SketchUP
We've been long time fans of Boogie Board, and now they've got the Scribble and Play, which brings color to this cool LCD board. There are 4 drawing utensils attached to the board for safe keeping after drawing is over, with different tips for kids to draw, write, and create fun patterns. Perfect for road trips or just keeping in the car as we get back to school aka back to living in it.
Thanks to Coco Color for sending us a stylus to try out.