For me, trying on jeans is about as dreaded as trying on swimsuits. There are so many brands with countless styles, cuts, and washes, it's beyond overwhelming. So, when I saw the ads for Like a Glove smart leggings on Facebook, which promise to help you find a pair of jeans you're going to love without the hassle, I decided to buy a pair. No dressing room? No kids in the dressing room? I couldn't help myself.
So, if you're wondering if these smart leggings actually worked, and whether they're worth a try yourself, here's what happened when I put them to the test.
CMT is an rstyle affiliate
How Like a Glove works
The Like a Glove leggings are laced with sensors that measure your body. You just slip them on (they're one-size-fits-all), and once you're connected to the Like a Glove app (iOS or Android), they take a quick measurement of your waist, hips, and thigh. And as much as you might want to suck in, don't do it! This is what they're going to use to determine your jeans recommendations, except your inseam, which is recommended based on the height you entered in your user profile when you sign up.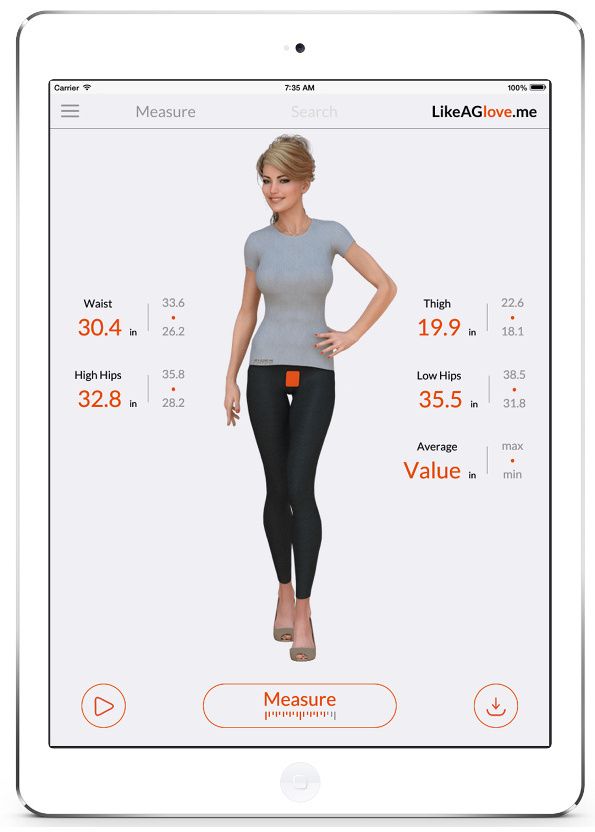 Related: How to wear skinny jeans without flaunting a muffin top
Then, the app then searches their database of popular jeans brands (Joe's, Lucky, 7 for All Mankind, you get the idea) to find you that elusive perfect fit. Even though you can filter the results to pare the recommendations down by rise, fit and brand, I'd say pay most attention to the star ratings. The more stars (5 is the highest), the higher the recommendation for you.
I do wish there was a price filter, because oof, some of the ones that were my top choices were also way out of my price range.
Surprisingly, most of the styles Like a Glove recommended for me were not cuts I would have chosen for myself (ahem, looking at you, skinny jeans). But I moved forward trusting their results, and ordered 6 pairs to try at home.
I personally found it easier to jump over to Amazon and order them all there in one basket instead of clicking through and ordering each pair individually. Plus, I get free return shipping on jeans with Amazon Prime. You can also just go to a department store to try them all on without the big expense up front, but I was intent on skipping the dressing room.
Related: Jen7 Jeans: Jeans for moms that aren't mom jeans.
How the jeans recommended by Like a Glove fit
Before I show you all the jeans I tried, I want to mention that I'm typically hard to fit because I have a smaller waist and curvy hips and thighs. I usually buy size 12 or 14 jeans in a curvy cut with a straight leg. Now, with that out of the way, here are the jeans that were recommended for me and how they fit (or didn't).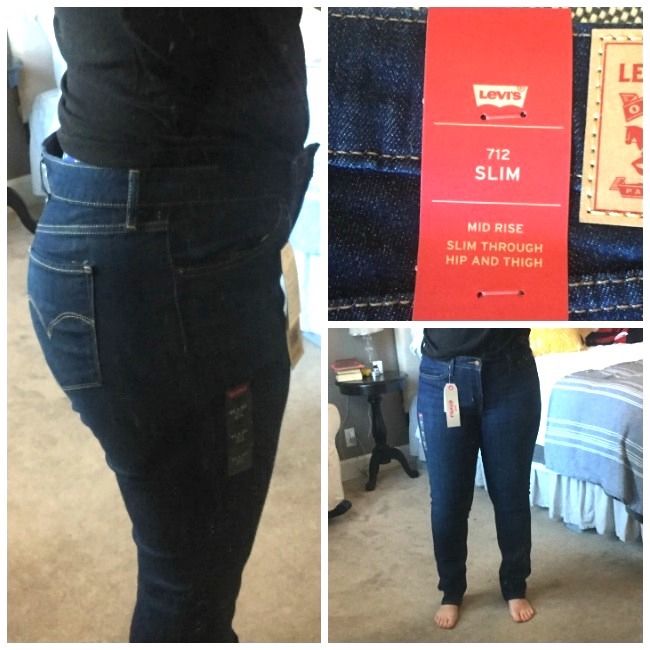 Levi's 712 Slim jeans: Other than the gaping at the waist, I thought this pair actually fit pretty well. If others hadn't fit better, I would have bought these.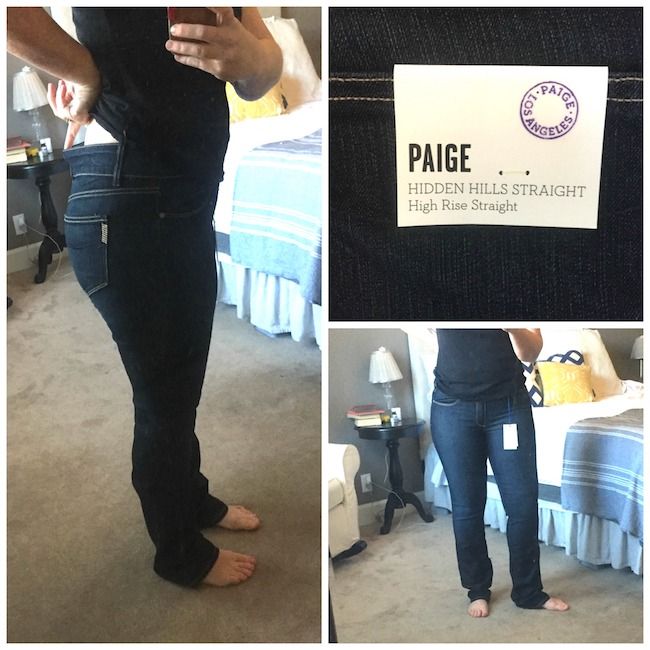 Paige Hidden Hills straight jeans: These were slightly too large at the waist but overall very comfortable fit. However, they are very, very long (check out my feet!).
Levi's 714 Straight jeans: I never would have chosen "slim through hips and thigh" off the shelf, but these were probably the best fitting jeans of the group. I'm not crazy about the shades of denim, however.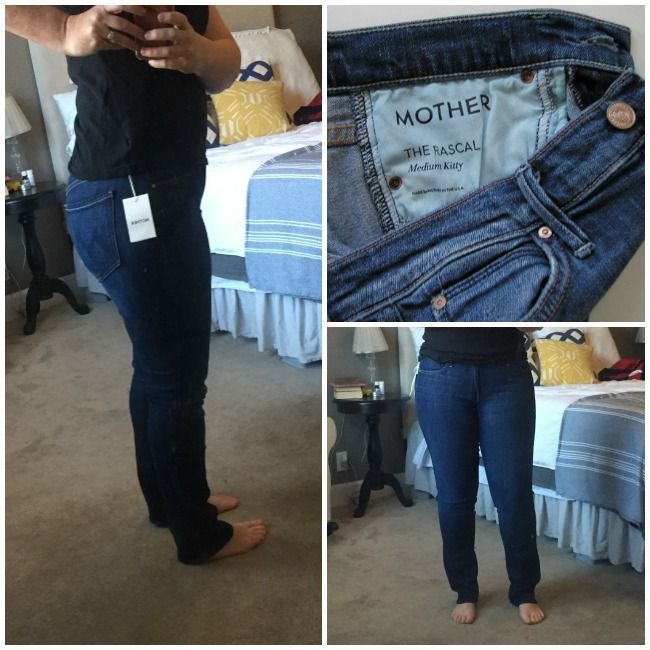 MOTHER: The Rascal straight jeans: This was my favorite pair (and the most expensive, of course) but sadly they were too small. Flattering butt pockets though!
Levi's 721 High-Rise Skinny jeans: This was the worst-fitting of the bunch, with a huge sag and buckling at the crotch that is probably do to the high-spandex content of the fabric. Sorry, nothing flattering about this pair.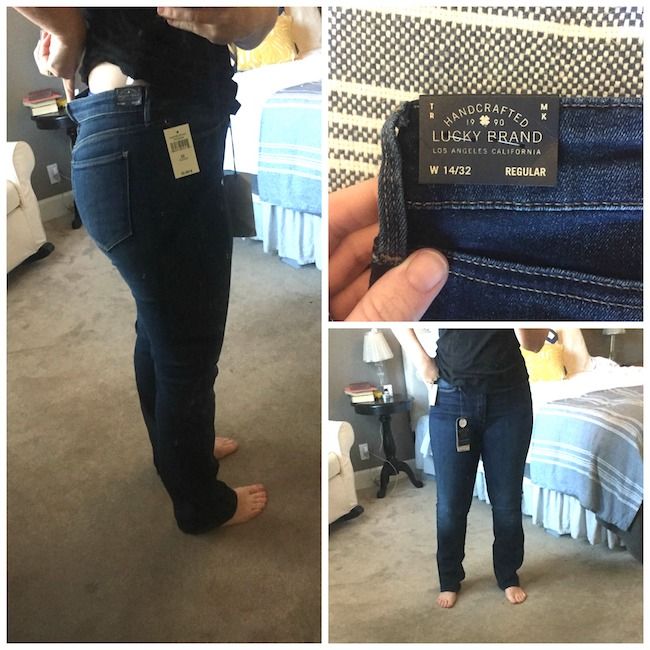 THE WINNER: Lucky Hayden Mid-Rise Straight jeans: Though these did gap a bit at the waist, I loved these jeans. They're the right length for my boots with heels and comfortable all over. (They're also available in skinny and boot cut styles.)
Related: Donde Fashion app is like a visual shopping search engine, and it's awesome
So, what did I really think of Like a Glove smart leggings?
While the leggings themselves are fairly expensive — almost $80 — I do feel that they worked well to make my jeans shopping experience easier. I would have spent a few hours at the mall trying on tons that didn't fit at all, and almost every pair here would have been fine to purchase. In fact, the only major issue in fit was the length.
Considering that, I do wish that Like a Glove took an inseam measurement with the leggings instead of relying on my height, because even though I'm fairly tall (5'8″) my inseam is probably closer to 31 or 30 instead of the 32 recommended for most of these. Almost all the jeans would need to be switched out for a shorter pair.
Even though the leggings were pricey, I found that I was actually happy with jeans that were less expensive than I would have expected. I returned the $200 pair of Mother jeans and kept the $75 Lucky ones instead, and honestly I would have been happy with the $40 pair of Levi's too.
And hey, if you have some friends who are also intrigued by the idea, go in on a pair of the leggings with them all and split the cost. The battery lasts for around 100 measurements, which should be plenty to share with a group of people. Measuring party, anyone?
You can find the Like a Glove smart leggings at their website. Happy jeans shopping! Good luck!