We've found a slew of amazing camera accessories that would make amazing Mother's Day gifts, whether the mom in your life is a certified shutterbug or she just loves taking photos of her kids.
While a lot of gifts for true photographers can be expensive, like new lenses for example, here are other gift ideas for camera-loving moms that are super cool. Otherwise known as, things I would personally really like to receive. Ha. –Kristen
These gorgeous Wood Camera Necklaces are made by hand. So perfect for the vintage camera lover. Choose between a leather or metal chain.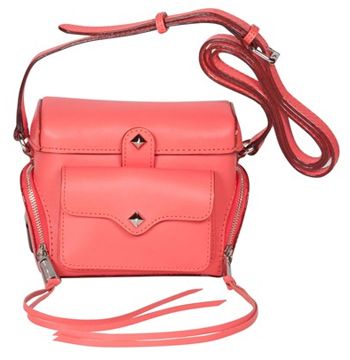 If she's more likely to carry a camera bag than a purse, my bet is that she'd flip over this hot Rebecca Minkoff Camera Bag which still looks like a stylish handbag.
The iPhone or Android-ographer will dig a Pocket Spotlight which will let her take way better flash photos with a cellphone, and the price is pretty sweet too.
I Love You More than Photoshop Card. Hilarious! (Although some of us do have a love/hate relationship with Photoshop.)
The Olloclip is one of our favorite iPhone camera accessories, giving you three lenses (wide angle, fisheye and macro) all in one.

Here's a wonderful gift idea: Take one of her favorite photos and turn it into a Canvas Pop Print. It's hugely flattering to know that someone deems your photos frame-worthy. Or give her a gift card if you know she'll be super picky about which photos she hangs on the wall.
Sometimes even the DSLR fan needs the convenience of a point-and-shoot camera. With a touchscreen shutter, WiFi, and a flip up LCD screen, the Canon Powershot N is the ultimate portable camera for a busy mom with a lot to carry in her bag already, and one she'll love to find wrapped up on Mother's Day.
This handmade Native American Navajo Inspired Camera Strap is such a stylish DSLR accessory and not like what you tend to see in the big camera stores. Need something a little fancier? Splurge on an ultra feminine Bloom Theory camera strap. Gorgeous.
Check out our other tech gift ideas for Mother's Day:
– 11 gorgeous gadget cases for Mother's Day
– The best Instagram photo gifts for Mother's Day
– The Mother's Day tech gifts that aren't all that techie