There was once a magical time. A time when children waited in breathless anticipation for their favorite Christmas Special to play on TV. There was no DVR or Video On Demand; no rewinding or fast-forwarding; no YouTube; no bathroom breaks. You had only one shot to...
Tips & Tricks to Make Life (Way!) Easier
No Results Found
The page you requested could not be found. Try refining your search, or use the navigation above to locate the post.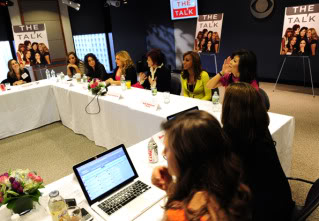 On the new CBS daytime show, The Talk, they're doing a lot more than just talking, and we think it's how well they are listening to moms like us that is worth applauding. On first glance (or watch) it may seem that the likable hosts including Sharon Osbourne, Leah...
This weekend on Cool Mom Picks, we uncovered an awesome custom video from Santa, and our readers are going nuts for it.  As are our own children. So much so, it would be gross holiday negligence for me not to share it here so even more children can wake up their...
Curious about what hot tech dads are digging these days? Here's our next installment of Dads Dig This featuring Andy Blackman Hurwitz, aka Disco Daddy, who is the co-founder of Baby Loves Disco and dad to three adorable boys. While analog technology might be old...
I'm always on lookout for creative ways to display photos of my kids, and if took a peek around my house and in my jewelry box, you'd see everything from bags to jewelry and probably everything else in between. So when I saw the custom phone cases with photos of the...
Best Buy Wish List is a sponsored series in which we feature all the things we're coveting at Best Buy--and then give you gift certificates so you can buy them yourself! Whee!Best Buy has a selection of computers to swoon over and going through it, we're kind of...
Holiday time is of course a photographer's paradise for capturing family memories. I encourage the kids in our family to take pictures, which provides a great "kid's eye view" into own traditions and activities--and the fact that my own favorites aren't necessarily my...
I'm hoping to get an iPad for Christmas. And by hoping, I mean I have this sneaking suspicion that when the sigOth said "don't buy yourself anything right now, like an iPad" that that was some kind of subtle hint.So I'm already scouting out beautiful iPad cases so I...
When holidays roll around, I definitely start thinking about how I can wrangle the chaos in my home to something, shall we say, a little more guest-friendly? Piles of papers away, cords hidden, bookshelves prettied up.One of the things that needs a shot of new around...
Purchasing an expensive pair of sneakers from the Van store for my tween son because, as he said "everybody wears Van," I'm well aware of the power of social influence on kids fashion. So when I saw the picture of the Adidas Twitter and Facebook sneakers designs by...
My own sigOth devoted much of his misspent youth to life as a skaterboi. Me? I had a strong sense of self-preservation. I liked sticker collecting. So I couldn't resist the chance to try out the new Tony Hawk Shred Game for XBox 360 which I thought might let me...
Google has a present for you. No, it's not the lyrics to that song you just heard on the radio or coupon codes for that cute new pair of boots.Well, okay, it is. But you get it on a plane.If you're flying Delta, AirTran, or Virgin Atlantic between November 20 and...
I tend to catch up on my magazine reading when I'm working out at the gym, getting a pedicure, or sitting in the doctor's office, and I admit that I've been tempted to rip out a few pages here and there. You know, for the great recipes, cool crafts, and compelling...