The holiday cards are starting to trickle in and it's always such a treat to receive greetings from dear family and friends from near and far. With each one, I'm reminded that we need to get moving on ours as well (as opposed to our Happy New Year card in mid-January...
Trending right now. As in, this second.
Tech Tips & Tricks to Make Life (Way!) Easier.
No Results Found
The page you requested could not be found. Try refining your search, or use the navigation above to locate the post.
Even More Coolness. Enjoy!
As my oldest reaches the age where she can read and potentially search the web on her own, I'm much more vigilant about privacy and safety online than I ever was before. Combine that with the growing use of social media outlets like Twitter and Facebook to share...
To say my girls are obsessed with the range of cake, cupcake, Jell-O mold, and cookie making/decorating iPhone apps out there is an understatement. It's like the EZ-Bake Ovens of the smartphone era: So fun for kids, it doesn't even matter whether they eat the results...
I'm one of those moms who could reallllly use one of those purse organizers and would get one then never actually use it; mostly because they contain a set number of pockets of specific sizes, which just doesn't fly for this free spirit. (That's code for "woman who...
The klutz that I am, a camera strap is an absolute must-have, particularly when it comes to my extra special fancy DSLR. However, I'm not so keen on being an advertisement for it, and I've been scouring Etsy to find something a little cooler. Related: 6 easy ways to...
Between after-school activities, weekend soccer games, getting Caleb a birthday present for his party on Saturday, flu shot appointments, sending in the permission slip for the field trip, and, uh, you get the gist, it's a wonder I don't leave my house looking like...
I have more problems managing my inbox flow than you can imagine. Seriously, you don't want to know how old some of the emails in my inbox are. (Okay, 4 years. Just in Gmail. My other account goes back to 2002.) So after much urging by kindred spirits on Twitter, and...
So I know I can't be the only one who's sent a snarky email or left a cheeky Facebook comment and ended it with a smiley emoticon. I guess it's sort of like starting a sentence with "no offense but... only nicer, right? Related: The new 2019 emojis! More inclusive,...
No techie parent needs convincing that the right app can do a lot more than keep your kid entertained while you wait in a long check out line or try to finish your food at a restaurant. The best ones actually teach your kids. Splish Splash Inn, from Shortstack, is one...
Hey Apple Store, I've got a bone to pick with you. I was browsing through your laptop cases at your 14th Street store and let's just say I, and the two other women staring blankly at the unimpressive display, left empty-handed. If you wouldn't mind stocking a few that...
No matter how many gadgets with keyboards are available, we kind of hope that actual writing never goes away. Kids still take notes at school and parents write notes at home or work. However if you don't transcribe your notes to a computer, or organize them all in a...
Welcome to the official launch of Cool Mom Tech! We are so glad to have you here.Don't worry, you don't have to be a so-called techie to feel at home here. You're online right now mama, and that's all the techie you need to be. Check in daily and you'll find the...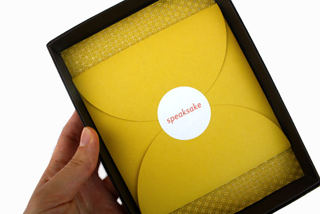 Previously posted on Cool Mom Picks Ever been the person in charge of a group gift, and discovered that special circle of purgatory that involves trying to contact large numbers of people and keep track of who's done what and who still needs to contribute? Yeah. Not...