Previously posted on Cool Mom PicksSo it's become pretty clear that iPhone apps can be God's technological gift to parents wanting to avoid toddler meltdowns in restaurants and pediatrician offices. Some of my favorite apps for the younger set come courtesy of Duck...
Tips & Tricks to Make Life (Way!) Easier
No Results Found
The page you requested could not be found. Try refining your search, or use the navigation above to locate the post.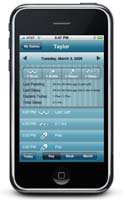 Previously posted on Cool Mom PicksThe quip, there's an app for that has become completely cliche, but Baby Brain has gone and proven it again. And new moms will want to sit up and take note.They've created the ultimate iPhone app for tracking baby's vital stats and...