Yesterday my son had a playdate with a little Chinese girl, coincidentally the same day I downloaded Chinese for Munchkins to my iPhone. The amazed look on her face when I asked them if they had seen a hóu zi or a lóng (a monkey or a dragon) at school was priceless....
Tips & Tricks to Make Life (Way!) Easier
No Results Found
The page you requested could not be found. Try refining your search, or use the navigation above to locate the post.
Not to brag, but for a non-geeky girl I know my way around a computer.  I'm not even afraid to dive into code. But where it comes to video editing, I'm a complete dolt.So when I created my very own free (free!) 30-second video at animoto, I was astonished at the...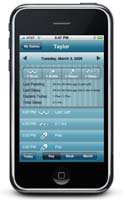 Previously posted on Cool Mom PicksThe quip, there's an app for that has become completely cliche, but Baby Brain has gone and proven it again. And new moms will want to sit up and take note.They've created the ultimate iPhone app for tracking baby's vital stats and...