Our cast of characters here at Cool Mom Tech wish you and your family a sugary-sweet and not-too-scary Halloween!. And thanks for making our first few weeks anything but frightful.Let's just say, if you came to our door, we'd give you only the full-size candy bars....
Tips & Tricks to Make Life (Way!) Easier
No Results Found
The page you requested could not be found. Try refining your search, or use the navigation above to locate the post.
While Cool Mom Tech has now been up and running for a whole month now (whoo!) this past week, we were excited to make things official with a bi-coastal launch party. No easy undertaking, when you consider Liz, Kristen + Beth have 9 children between the three of us,...
Zachary, could you come here please? Zachary...Zach, hello, I'm speaking to you. ZACH! Sound familiar? It can't be just my kid who ignores me for all kinds of reasons, but the last thing I'd ever want as a reason is for him actually being unable to hear me....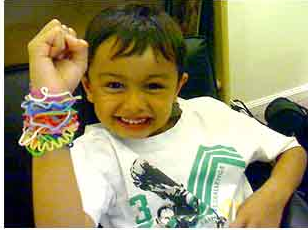 Well, it was only a matter of time before our favorite landfill-embellishing cheapo kid pleaser made the licensing rounds. Any day now I expect Silly Bandz bedding, Silly Bandz bike accessories, and a Silly Bandz animated series on Nick Jr. featuring the made-for-TV...
Here are some things we've liked reading around the web this week. We hope you will too. Can the iPad help children with Autism? Really fascinating article. Digital textbooks are on their way sooner than you think. And better yet, the first one will be free. Ooh,...
If you play as much Mario Kart in your house as we do in ours (I mean uh, when we're not listening to NPR) you will probably weep little animated tears of joy at this Power Up onesie I found on etsy. Made by a doting auntie for her future Luigi-loving nephew, the...
A couple of weeks ago, I took the plunge and purchased an iPad. I'm far from what I would call a gadget geek, but given my husband's traveling schedule and my new job as "homeschool educator," I figured that it would come in handy for our family. And since finally...
Having recently armed myself with a video camera packed with the features a mom on the go needs (image stabilization, face capture, full HD, foot rubs on demand) I was ready for every spontaneous moment my kids could dish out. School play? Ready. Winning goal? Ready....
We have all adored the products from Logitech for a long time. They're cool, stylish, super functional tech accessories are pretty much everything that's right about tech, when tech gets it right. Because they're the makers of the widely lauded Harmony Universal...
Confession: My husband and I have a Wii, and our 3 year old daughter doesn't even know it exists. I'm not a big fan of little kids who are addicted to video games. I get uncomfortable seeing a family out to dinner with a child who's old enough to sit still and behave,...
For the most part, marketers of kids' products have yet to discover smart ways to get folks to their site for any reason besides product info. (Seriously, when was the last time you logged onto your kid's favorite breakfast cereal URL, despite the back panels' hollow...
As we've been noticing for some time now, designer fashion is expanding beyond clothes and into technology. If handbag designers can make accessories to hold your keys, then why not your laptop too, right? The latest entry is from no other than late fashion icon...
We've only had our iPad for a week now, and already my homeschooled daughter and I are reaping the benefits thanks to so many of the cool, educational games we've discovered. Some of which, like Math Bingo, can be a fantastic addition to what can be a pretty one...