We've officially hit the point of full Apple product saturation in our household -- and as so many parents in our Out Tech Your Kids community tell us, they have too. So what do you do when you're all basically on Apple devices, your kid needs a new phone, and you...
Trending right now. As in, this second.
Tech Tips & Tricks to Make Life (Way) Easier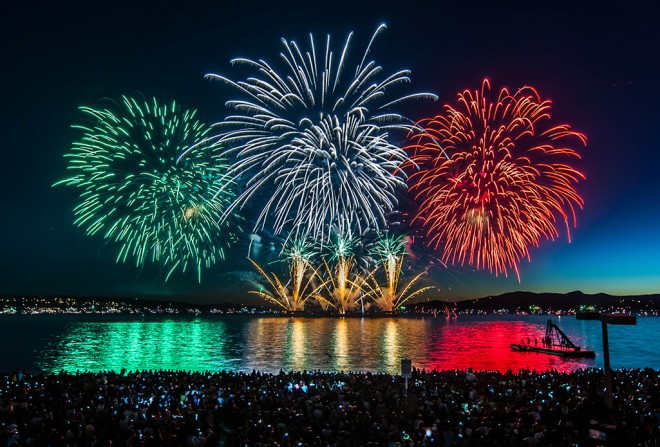 Fireworks are at the top of nearly everybody's list of favorite Fourth of July memories, but capturing the magic in fireworks photos can be extremely tricky. So we scoured our favorite photography and tech resources for great photo tips for fireworks, so that the...
It took me longer than most people to get into audiobooks. Even while friends raved about flying through so many books on their commutes or while sitting in carpool lines, I had tried a few novels on Audible -- good ones! -- and just couldn't get through them. I...
Lately, a lot of readers have been asking us to recommend the best Fitbit for their needs -- for themselves as a form of self-care, for gifts for others (ahem Mother's Day and Father's Day are coming up), or just an upgrade to an older model they already have. They've...
Even More Coolness. Enjoy!
Even in pre-Covid days, I always hated sitting in a doctor's waiting room just thinking about the "bonus" rotovirus we were probably contracting on top of the ear infection we were there to treat. That's a big reason I am so excited about the TytoCare Medical Exam...
With the new year here, it's a good time for a refresher on how to make strong passwords and help keep them safe. With phishing on the rise, ever-present social media hacks, and general security breaches and unsavory shenanigans, it's just a good idea, and one of our...
For so many of us, the new year is about fresh starts. That's why around here, so many of us use January as time to cross off what we can from all of those never-ending tech to-do lists. These are the kinds of tech to-dos we often put off, not necessarily because they...
Every year, we think it's fascinating to look back and see the top posts we wrote that captured our readers' interests and imagination. Some of the favorites were just fun (hey, trendy halloween costume!) while most this year were really helpful. And hey, we're...
For those of you who also grew up with Ezra Jack Keats's magical The Snowy Day, you can imagine my thrill at discovering The Snowy Day has become a wonderful opera now available to stream on the the Houston Grand Opera website Even better, we can all watch it right...
This year is definitely the year of the Santa tracker app. After, all, even the biggest Santa fans among us know that while he is vaccinated (so don't worry kids) we want to keep him safe -- and him, us. So we're avoiding the mall and turning to some terrific tech in...
If you're a fan of Paperless Post like we are, don't miss out on Paperless Flyers as a genius way to send out all your last-minute holiday invitations, school fundraisers, or to invite out-of-town family to the kids' end-of-year-recitals over Zoom. After all,...
Lately I've been looking for the best way to add a holiday aesthetic to my iPhone, uh.... like all the teenagers in my life do. Of course you can always customize your own iPhone icons yourself, I don't have quite as much time to spend on crafting the perfect holiday...
Who else is in the market for cool new video games for your families? Video games tend to get a bad rap, but I've found that picking the right game can actually foster connection and fun. So if you have an avid gamer in your family and are looking for a way to enter...
High-tech beauty gifts are all anyone seems to talking about in my Facebook groups these days. At least when it comes to holiday gift ideas. And who can blame us? We've come a long way from the days when I bobbie-pinned my hair before bed to have curls the next day (I...
I'm absolutely fascinated by the way my own kids and step kids use tech to make ongoing gift wish lists -- the iOS Notes app has become the method of choice for them and so far, that's working pretty well for us. Then I saw Jessica Bradley Rushing's hilariously 2021...
Not everyone loves a big, splurgey, outrageous tech gift -- some of us are happy with practical tech gifts. Especially these days, when those gifts just may help us get through another (deep sigh) long winter. Colder weather has officially settled in for many of us,...