Here are some of our favorite tech links from around the web. We hope you enjoy them as much as we did. Star Wars and Louis Vuitton together? Yes, please! We found your next family trip: Check out this real-life Mario Kart. Nintendo goes low-tech with high-tech...
The Best of the Best Educational Apps
For those of you with budding scientists at home, the Lab4U app collection lets kids conduct real science experiments with just their phone. No WIFI required! The collection currently features two apps, Lab4Physics app and Lab4Chemistry, both of which use the sensors...
Well this is cool, parents! Khan Academy is partnering with Disney and Pixar to offer free online classes in storytelling for kids of all ages to show them how STEM helps make movies. The initiative is called Pixar in a Box, and we're pretty sure it's going to get...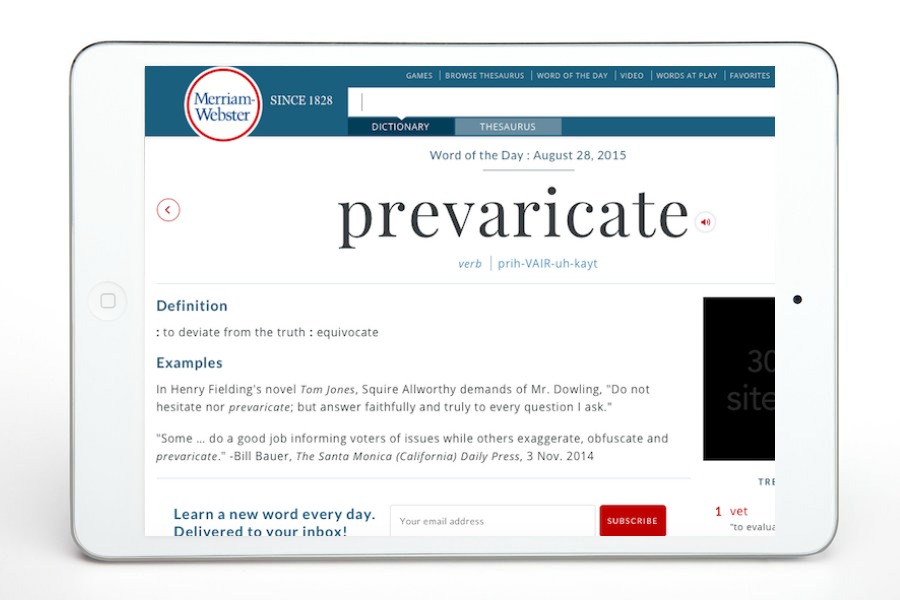 We're getting a good laugh out of the Merriam-Webster Twitter account, and don't we all need a good laugh, lately? If you're not following them, you should. Also, may we suggest downloading the free Merriam-Webster dictionary app? Sure, it's the most respected source...
Thanks to Twitter user Red Long, who describes himself as blind in his bio, I found a terrific tip to use a feature in your Twitter accessibility features to help your visually impaired readers. However in digging deeper, turns out there are a whole bunch of really...
It might seem counterintuitive to use technology to get sleep, especially since so many sleep experts remind us all that tech before bed is a major offender. Over the years, we've featured some fantastic sleep gadgets and sleep apps to help you get more sleep, none of...
Over the holiday break, I took my family on a trip to Sedona, Arizona and the Grand Canyon, and thanks to my fantastic iPhone 8+ camera with Portrait Mode, I've got some fantastic photos. But, as I quickly discovered after some trial and error, Portrait Mode doesn't...
If you're like us, then you've got a ton of fingerprints on your computer and way too many photos on your smartphone. But to start 2018 with a clean slate (or at least, a clean screen), we're sharing 20 tech to-dos to help you get more organized before the year gets...
Here are some of our favorite tech links from around the web. We hope you enjoy them as much as we did. Here's everything you need to do to a smartphone before you hand it over to kids. This is a perfect wheelchair costume for a Star Wars fan. Hooray for this...
We can barely stay up until midnight anymore, let alone our little kids, and the combination of both of us with no sleep is just scary. If you're looking to get your kids to bed at a reasonable hour on New Year's Eve, Netflix has parents covered (again) with their...
From scary apps your kids might be using to the solar eclipse of 2017 (remember that?), we rounded up our top 10 most popular posts here on Cool Mom Tech from 2017. 10. Is Unroll.me safe to use? After the controversy over their use of data (which is common amongst...
If you've always had a sinking feeling that your iPhone battery started to you know what the fan when new iPhone models were released, you probably felt vindicated last week. That's when multiple sources, like our friends at CNET, reported that indeed, there was a...
Big news today, especially for American Girl doll lovers. They announced their 2018 girl of the year, who just so happens to love STEM. How cool is that? Related: Finally, the first American Girl boy Doll  Meet Luciana Vega, the 2018 girl of the year, who is an...
We've covered a ton of topics on our Spawned with Kristen and Liz podcast in 2017. From kids and social media to vagacials (yes, it's a thing), we've had a blast chatting with each other, and our esteemed guests, about parenting and parenting culture. And we hope...
Here are some of our favorite tech links from around the web. We hope you enjoy them as much as we did. 15 ways Alexa can make your life easier over this holiday break. Be sure to rip yours to shreds: Boarding pass barcodes reveal a lot of information about you. And...
At my house, we use our Amazon Echo every single day. I ask Alexa to place orders, find the proper cooking temperature of pork, or play my favorite playlist, just to name a few. So with the holidays here, I thought it would be fun to share 15 ways Alexa can make your...