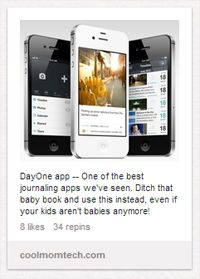 Obsessed with Pinterest as we are? Follow us! Then check out our favorite pins from this past week.
1. If you take photos with your iPhone, you need this amazing new gadget stat.
2. You won't believe what this app does to your photos. So cool!
3. What we wouldn't give to be carrying this stylish bag for spring.
4. Never ask yourself "I wonder where my keys went?" again.
5. What we're calling an absolute must-have app for parents with an iPhone.