If you've been following Cool Mom Tech lately you know how much we loooove Halloween! So when we learned about a few games for our kids' beloved Nintendo Switches that feel perfect for the spooky season, we were excited to share them, Because we can't be the only ones...
Trending right now. As in, this second.
Tech Tips & Tricks to Make Life (Way!) Easier.
I know I'm not the only one who wants to get rid of the unread email count badge on my phone that taunts me loudly in BRIGHT. RED. NUMBERS. Every so often, a friend on social media gleefully (like a Mr. Burns kind of gleeful if you ask me) will prompt friends and...
Lately I've heard some mixed opinions about the Focus feature on the latest iOS 15. If you haven't updated your iPhone yet, Focus mode is similar to the Sleep mode introduced with iOS 14 with even more detail and  more ways to customize your notifications from apps,...
I received an Amazon Echo for Christmas a few years ago, and I have to admit at first I was a little skeptical. What is all the buzz about anyway and what can I actually do with an Amazon Echo? I wasn't sure it could really do more for me than Siri or my phone, but...
Even More Coolness. Enjoy!
When your teen takes the time to text you the news about InnerSloth's official Among Us costume for Halloween this year, you know that the party game that got millions of kids through the worst of the pandemic last year is only growing in power. Kind of like a player...
We're all talking about "that" Wall Street Journal article about Instagram: Facebook Knows It's Toxic for Teen Girls. You're probably talking about it. Or your kids are. I know it's all we've been seeing in our social feeds this week around here, and easily 15 people...
I am so grateful for these terrific mindfulness podcasts for kids.I know I'm not the only one seeing increased anxiety levels in my kids since COVID turned their worlds -- and ours -- upside down. So all the resources I can find to help my kids cope are so valuable to...
It's been a while since we shared our favorite apps to help you get better sleep. So long, that our last post about favorite sleep apps seems to include apps all recently acquired by mattress companies. Hm. I did recently write about my favorite iOS tip for helping me...
This week, a wonderfully human, poignant video from husband-wife team Mandy Patinkin and Kathryn Grody went viral. Perhaps you've seen it? They used the platform to  respond to a Princess Bride fan named Amanda Webb (@Alaska_Webb), a young woman who had recently lost...
As a former homeschooling parent, I am a huge fan of math apps for middle school -- and for tweens and teens whatever their grade level. I used to say that I was okay teaching math until around 3rd or 4th grade, and then I needed some help explaining certain topics to...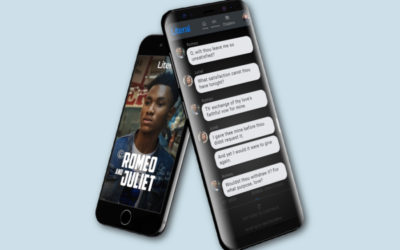 Sometimes we think of reading apps as for little kids, but reading apps for kids in middle school and high school can be extremely helpful. Whether your kids are voracious readers or a bit more reluctant to get lost in a book when there are video games to be played...
As someone who now regularly attends physical therapy, let me be the first to advise you about the importance of ergonomic laptop accessories: So important! Given how much time we all spend on our computers these days, it really pays in the long-term to have a...
The upside of my family existing in the Apple device ecosystem together is that we can all share cords and cables. The downside? We can all share cords and cables. So I was thrilled to come across these personalized cord tags from Delightful Luna on Etsy. They let you...
We spent the past year evaluating the best headphones for students who are remote learning. While this fall, plenty of kids are headed back to school in person, we know that some will still be staying home, some will be doing hybrid learning, and with the pandemic...
As we mentioned on Cool Mom Picks, our team is off on a little break this week. Don't we all need one these days? (The answer is yes. Yes we do.) But hey, before we took off, we wanted to put together some of our very favorite summer tech posts -- which also happen to...
I've been on a search for the best waterproof iPad case, and after a long hunt I've found it! Or at least I hopeI have. So, of course, I had to share it here. Most parents want protective, waterproof iPad cases to protect against spills or accidents at home or to give...