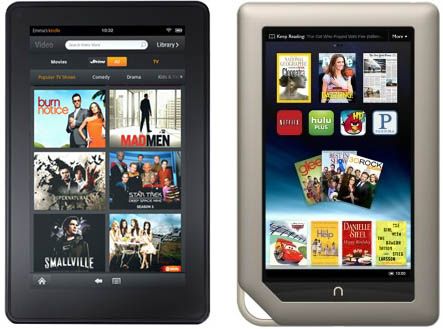 My husband and I have been using our Kindle Fire and NOOK Tablets respectively for the last six months, and over that time, we've definitely developed strong opinions about these two new tablets. Let's just say one of them is getting a lot more use than the other.
If you're wondering whether the Kindle Fire or NOOK Tablet might be the best Father's Day gift, then you'll want to check out our experience with both before you make your final decision.

The instant I opened the Kindle Fire, my husband snatched it right up and he hasn't put it down since. As a frequent traveler, it's become his go-to gadget, not only for checking email and cruising the web to check up on the latest news. It's now completely replaced his Kindle e-reader, which he donated to my oldest daughter. And he, along with my kids, watch a lot of movies on it, most of which he purchases for less than a buck–he finally bit the bullet and signed up for Amazon Prime, which affords him lots of free books and shows, as well as other shopping benefits.
And while my husband is not a big app person like I am, he's still got lots of access to them on the Kindle Fire if he gets a hankering for something.
I wish I could say I had a similar experience with my
NOOK Tablet,
however I haven't. It turns out I'm actually back to using the iPad for numerous reasons. While I definitely loved reading my New York Magazine on the NOOK, as well as finally catching up to everyone with The Hunger Games trilogy, I found that the apps were super limited, expensive, and really, quite buggy.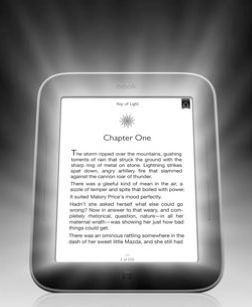 However, my biggest disappointment was that unless I had a Netflix or HULU account, I couldn't really watch anything on it–well, unless I want to catch up on old movies from the early 90s.
Yes, both services offer some television shows, but it wasn't enough for me to want to keep my accounts. So when I had canceled them, that meant my NOOK was now useless for viewing anything.
The verdict:
I wouldn't consider either of these tablets to be work horses; if you want to use your tablet for business, get an iPad or netbook. But for entertainment value, I'd definitely choose the Kindle Fire.
Now if you're mainly going to use your tablet as a glorified reader or you're just a die-hard NOOK fan, I'd just as soon grab the new NOOK with GlowLight, which will be better on the eyes for reading than a back-lit tablet. –Kristen
You can purchase the Kindle Fire from our affiliate Amazon.com and the NOOK Tablet at BN.com or at your local Barnes & Noble. Both start at $199.