If you're like me and have a bunch of really outdated MP3 players and iPods laying around your house, not to mention USB flash drives stuffed in drawers, then go round them up! I have some ideas to help you turn them into fabulous gifts for your friends' kids and family in a matter of minutes.
Reusing Nanos and iPods
Since moving all my music over to my iPhone, I've got a couple of old Nanos and iPods that are getting absolutely no use. So when my friend told me how her kids had received a friend's old iPod loaded chock full of audio books as a birthday gift, I thought it was such an awesome way to repurpose my old tech.
All you have to do is load them up with a bunch of kids' audio books or kid-friendly music from your account, maybe add in a pair of kid-safe ear buds (or a few if you're giving it to a group of siblings), and voila–gift of the year!
Just be sure to check with the parents first since every family has different rules about technology use.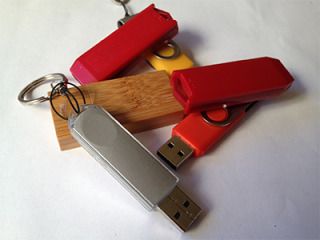 Reusing USB Flash Drives
You know all those old USB flash drives you have? I love the idea of deleting the contents (check first to make sure you don't need what's on there!) and then adding fun photos of your kids and sending them along to family (Grandparents!) for a little something extra special for a birthday or even the holidays. You could even get extra crafty and make your own labels to cover them.  Or if you want to get fancy, attach the keychain style ones to a personalized keychain like this one by Lisa Leonard.
I'm sure that they'll appreciate having a ton of photographs they might not have necessarily seen, all in one handy place–without having to sign into any accounts or huge email attachments. And you'll be glad to have one less thumb drive. -Kristen