I had one of those moments recently that falls squarely into the category of "modern life." I was looking for a photograph of my kids that I could visualize in my mind, but couldn't remember if it was on my phone camera, camera-camera, iPad, Facebook, or iPhoto.
Obviously I'm not great at organizing my pics (or even knowing which device I snapped/stored them on), so I was pretty delighted to find out about a new website that's made for people like me.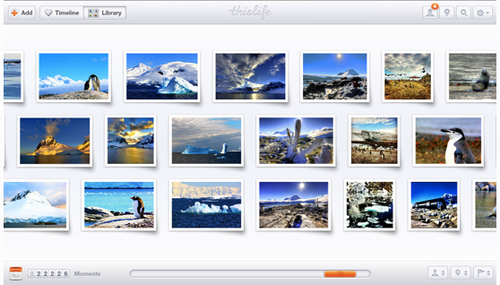 ThisLife is a fantastic website that collects and stores all of your photos and videos into a cloud service –yes, all
of them, from Facebook, your computer, Instagram, Twitter, iPhone,
Droid–basically, everywhere you might have a random "when
did I take that?" picture.
I always get a bit nervous undertaking a
photo "project" so I was pretty relieved at how easy it is to use. I clicked
one button and every pic I ever uploaded to Facebook was suddenly
staring me in the face. A few more steps allowed me to collect my stuff
from various sources, then I hovered over the ones I really liked,
pressed the little "My Story" button, and all of my faves were entered
into a beautiful vertical timeline. Voila! My story in pictures, all
tagged and dated and organized and lovely.
As for the price, it is quite
reasonable for what you get in terms of cloud storage; up to 1,000 photographs plus one hour
of video are free. After that, if you want to store up to to 20,000 photos and 10 hours of video, pricing is a justifiable $7.99/month. However if you're going to be capturing
every moment forevermore, the Family Plan will allow you to store up to a
whopping 50,000 photos and 25 hours of video for $14.99/month–which definitely adds up, so that's not for everyone.
I can see numerous benefits to ThisLife, including the fact that your
pictures will belong to you again (you hear that, Zuck?). And
even if you shut down any of your social media accounts, the photos
stay on ThisLife, never to be lost, misplaced or forgotten again. For some of us, that's a lot of peace of mind. –Shari
Register to tell your life story in pictures at ThisLife