As much as I love the iPhone camera, I don't tend to pare down as much as I should, meaning I'm scrolling through 2,000+ photos to try and find that shot from that time that my son was feeding that horse on that school field trip. And now with the holidays here, that just means I'm about to add another 1,000 or so photos to the roll.
However, by using a new photo app that am totally digging, I'm able to whatever I'm looking for a lot faster and more efficiently.
The Flayvr app accesses all your photos–as well as your calendar–and uses the info in both to group your pics into albums sorted by date and topic. In other words, if you have "Field trip to the farm" written down from August 6, next thing you know, you'll have an album with that name. Amazing.
I love the look and feel of the different "flayvrs" (a gimmicky name for albums) which are kind of reminiscent of Windows live tiles. And it's really cool to click on one and see live video playing within each album.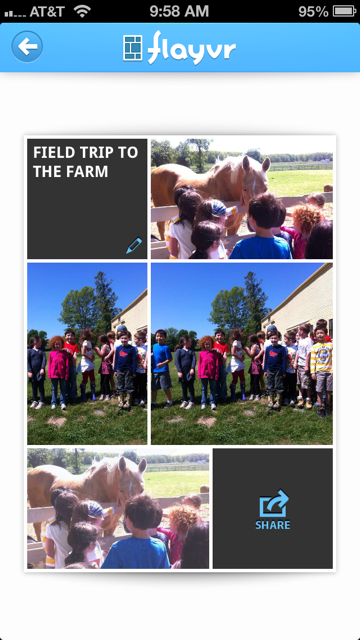 There are a few bugs I came across that I'm hoping will be remedied in future updates. If your calendar doesn't match with your photos, the album will just be titled with the date that the pictures were taken, which is fine. But in my case, one of my albums was called "NYTimes Subscription Ends." Huh? Also, it would also be nice to be able to modify each flayvr more. You can rename it and delete photos, but being able to combine flayvrs–since many of my albums are grouped by individual days as opposed to events–would be another welcome addition.
It's definitely a great app for organizing pictures, even more so if your iPhone calendar is filled with personal events and can help the categorization process. There's a lot of potential for this app and I think it's only going to get better in future versions. Plus, organizing my photos is only going to get harder once January rolls around. Better to start now. Especially considering the app is free.  -Jeana 
Flayvr is available for free in iTunes and is coming to Android soon, too!