My MacBook Pro and my Canon are the only two gadgets I love almost as much as my children. And, since both are pretty permanent extensions of my arms, not bringing them along when I travel is unthinkable. Finding a way to pack a laptop and a camera without stuffing two extra carry-on bags with sweaters and t-shirts, however, can make packing efficiently impossible.
We're already big fans of Epiphanie Camera Bags (as is the whole world these days, it seems) and now there's one more reason they're saving me.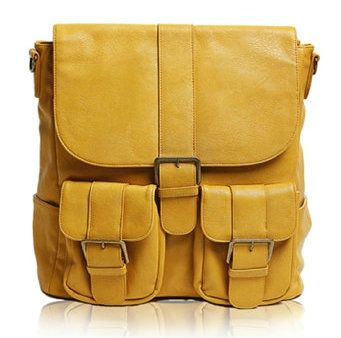 Don't miss an exclusive giveaway for our subscribers!

Meet the Epiphanie Brooklyn Camera Backpack, their new laptop backpack meets camera bag meets convertible crossbody awesome.
The Brooklyn is designed to accommodate a 15″ laptop, iPad or tablet/e-reader, plus a camera and attached lens, one long lens, one short lens, external flash, a battery pack and oh yeah, your wallet. Extra pockets and adjustable Velcro panels mean room for keys, smart phones, business cards, chargers, the latest season of Downton Abbey on DVD, headphones and whatever else you need for in-flight action.
In person, the faux leather is supple and premium looking, especially in the four gorgeous colors, but I'm less concerned with that than the fact that it's waterproof–pretty essential when you're packing tech. And it's got all that padding on the inside to protect equipment from bumps, which is one of the reason that Epiphanie fans are so evangelical about their gorgeous bags.
What's really nice? You don't even have to be overloaded with gadgets to get great use out of the Brooklyn Bag. Take out all the inserts to leave one large zipper pocket, and it's just proved itself as a fabulous everyday travel bag. -Pilar
You can purchase the Epiphanie Brooklyn Camera Backpack in a range of fabulous colors at Epiphanie.
EXTRA COOL: WIN IT! We have a Brooklyn Camera Backback in mustard to give away this month at Cool Mom Picks! Just make sure you're a subscriber to the Cool Mom Picks newsletter–if you're already a Cool Mom Tech subscriber, check the "Cool Mom Picks" box and you're in, too.  See all the details on our newsletter page.