Good news for Gmail users: The interface just got a little more organized, and whether you use it on the Web, on your iOS or Android device, you can keep those 3,420 emails in check with some of the new features. And the new feature of the hour? Tabs!
Organization gets one step easier with tabs that automatically classify your emails. In other words, it will be even easier for you to prioritize and read your entire inbox on your own schedule by sorting them this way. The default tabs are Primary, Social, Promotions, Updates and Forums.
Primary: This tab is basically meant for your main personal messages, work emails, whatever you read day to day.
Social: This tab gathers all your notifications from Twitter, Facebook, LinkedIn, Instagram, Pinterest–basically wherever you've opted in for notifications. We often suggest that you auto-filter these messages to skip the inbox and label them so you don't have to see them every time they come in, but now that's taken care for you.
Promotions: Here's where all those deal and sale emails get stored. If you're like us you get a lot of flash sale emails popping up at the same time each morning.
Forums: Like social, your forum email alerts go here.
Now of course it's not all done for you, because everyone has different needs. You can select which tabs you want to appear on your Gmail page by going to the Settings icon at top (looks like a little gear) and selecting Configure Inbox. That's where you can pick which tabs you want to see, and how you want your emails to be classified.
And certainly your current labeling system remains, so no panicking about the years of work you've put into keeping your receipts separate from the notes home from school.
The great news is that these tabs crossover to the Gmail mobile apps for iOS and Android too. The touchscreen even makes it easy to quickly classify emails that erroneously went into the wrong tab. Google claims that over time, the system will learn your classification preferences and adopt how you want email to be sorted, and we imagine that will be true–the same way it recognizes your key contacts and your spam emails pretty well over time.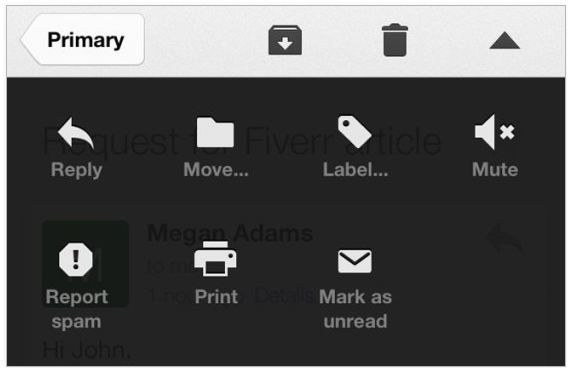 One more way to customize: If your phone buzzes all the time with those hoardes of emails coming in, go into notifications and make sure only primary tabbed emails alert you. Or…none of them. If you ever want to get anything done during the day.
Just a quick note that you need to set and customize your tabs in Gmail on your web browser first before you'll see them on your mobile device. After that, all will sync, and it'll be smooth sailing to more organized email experience.
Hallelujah for that. –Jeana
The new inbox configuration is already live in Gmail and the Gmail app is available for free in iTunes and Google Play.