Call Bear Grylls, people, because my iPad mini is ready for any crazy, backwoods adventure he might be going on. That's because for the last few weeks my tiny tablet has been rocking ZAGG's Rugged Folio for iPad. Bring your apple juice spills, your grubby toddler fingers, you campsite, and your hikes — my iPad can handle it.
It's made of a super durable polycarbonate shell with a soft silicone interior that will leave your Apple tablet smirking and basically saying, Come at me, bro. It's protected. To simply say that this case is durable is kind of playing the thing small. I mean, it is that — small and neat — but the Rugged Folio is also a wireless Bluetooth, backlit keyboard designed specifically for iPads.
And, thanks to the cool magnetic hinges securing the iPad in place, you can convert the case into multi-function modes like keyboard mode (below), case mode to keeps the keyboard separate from the tablet, or video mode which holds iPad at almost any viewing angle.
Plus, there's a powerful lithium polymer battery on the keyboard that is supposed to keep you typing away for two years before it needs to be charged. That's a lot of tweeting and pinning and posting, right?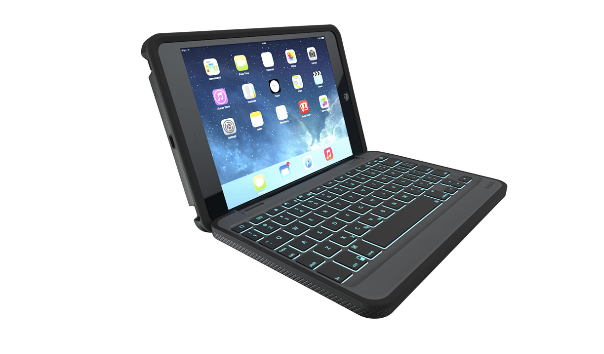 The were only two hiccups for me. The first has to do with charging the iPad while it's in its protective casing. Although the case has an opening for the Lightning cable (as well as one for the camera lens), it did feel like it was taking longer than usual for my iPad mini to charge up.
The other issue I had is also not a biggie: When using the Rugged Folio keyboard to operate my iPad, all autocorrect functions were gone. Yes, it's a lazy man's complaint, but it's legit. I've grown accustomed to having my "i" capitalized for me and having a period pop up at the end of my sentence simply by hitting the space bar twice. Hey, we all have our things. So if you are an autocorrect addict, you might find this a challenge.
Outside of those two nits, I have nothing else to pick on. The case is terrific choice for those who take the rugged way 'round. And, parents, that's code for: Your toddler has met her match.
The Rugged Folio is available for iPad Air, iPad mini and iPad mini with Retina display. The case-keyboard is available at ZAGG.com and at AT&T store and website. The iPad mini version sells for $139, and the iPad Air style is $149.