One of my New Year's resolutions this year is to get my kids their own homework spaces so that I'm not asking them to clean their notebooks and backpacks off the kitchen table while I'm in the final stages of dinner prep each night. In my search for desks, I came across the new mobile, height-adjustable computer desks for kids from ACE Baby Furniture which offers peace, quiet and plenty of space to work.
Despite the manufacturer's name, this is a smart, tech-ready computer desk and workstation for kids who are old enough to have homework and use a laptop, but young enough that they're not rolling their eyes at the simple, modern, animal silhouettes.
I think this would allow the desk to grow with my own kids, for a little while at least, along with the desktop that you can set to three different heights. The lower shelf can hold a CPU, or a trash can or a bucket full of rainbow loom bands–whatever you need. At the rear of the desktop is a hole for the cords to run underneath. I do wish there was also a hole in the back of the desk, so the cords could go straight to the outlet, but you can drill your own, or easily fix the issue with a BlueLounge Cable Box.
The idea is that these computer desks are designed to work for a toddler all the way up to an adult. Presumably for the many adults in your life who really want a desk shaped like a lion?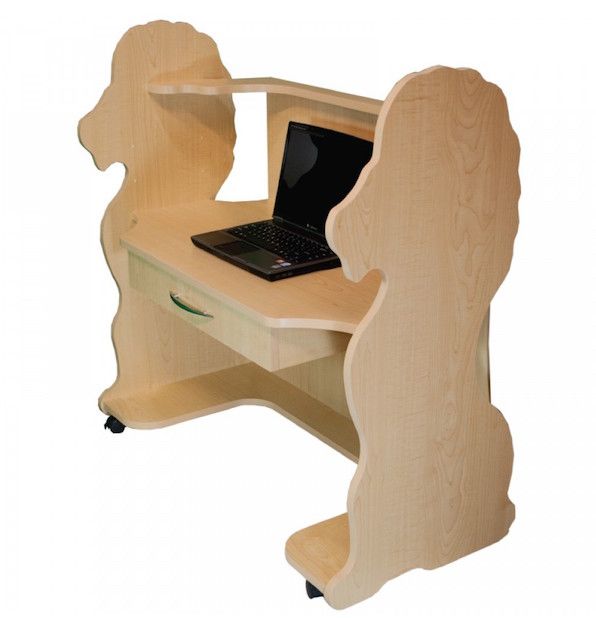 Just be sure that when you're setting your child up with a computer in her room, away from the common areas of your home, that you start having a conversation about tech safety, boundaries, and rules. You're going to need some new ones when you're not standing over your daughter's shoulder. In the meantime? Have fun getting organized in the cutest way possible this new year.
You can find the mobile, height-adjustable computer desk for kids in rabbit, bear, or lion styles at the the ACE Baby Furniture website. If you're interested, there's also a coordinating Clothes and Shoe Organizer and Bookshelf which are seriously discounted at our affiliate Amazon right now too. Thanks to the company for sending a sample desk for us to evaluate.