Preventing mosquitoes is one of my big concerns, especially this summer. Not only are they annoying and itchy, they carry some serious diseases that I don't want anywhere near my family. But I don't like the idea of spraying chemicals in my yard either. The right bug sprays work pretty well, but they can get expensive over the long term. Plus, you have to keep on spraying everyone.
So, we're looking to some clever mosquito tech solutions to keep my outdoor entertaining areas free of mosquitoes, so we can eat dinner, star watch, and catch fireflies in peace.
Related: The best safe kids bug sprays to help prevent the Zika Virus
This article contains affiliate links and some purchases may generate a small commission for our team at no additional expense to you. Thanks for supporting our small business!
This post has been updated in 2021
3 genius mosquito tech solutions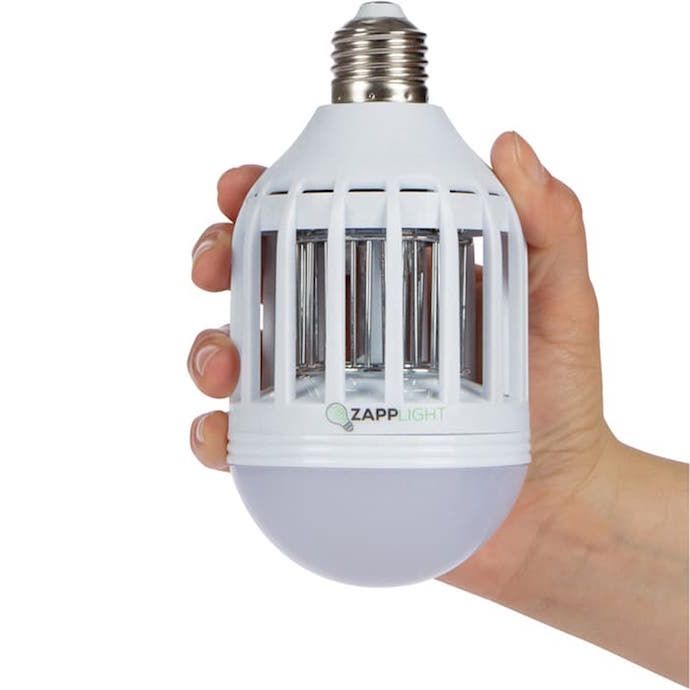 1. The Zapplight Light Bulb: An affordable mosquito tech solution
For an unobtrusive solution that fits into your existing decor, try the Zapplight light bulb. The blue LED bulb attracts the bugs into a zapping grid that kills them, and some reviews say it doesn't even have that annoying zapping sound.
These bulbs also save money because of their lower power consumption, and they're guaranteed for up to 13 years. Not bad for a $20 purchase! The only downside — you have to clean out the dead bugs every once in awhile, which is kind of gross.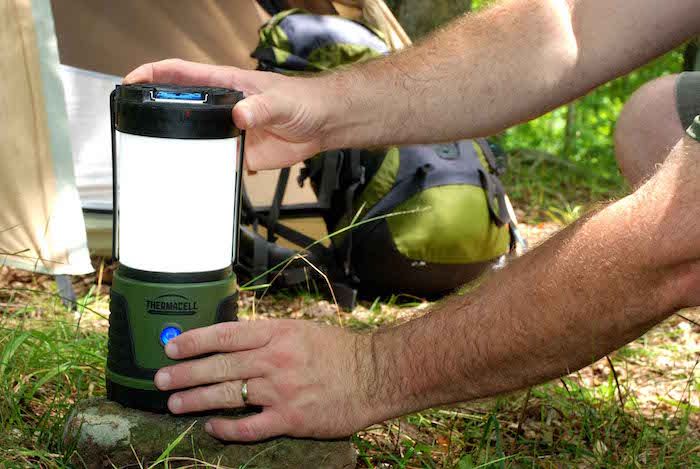 2. The Thermacell Lantern: Perfect for travelers
We recommended this smart battery operated Thermacell mosquito repelling lantern in my list of 11 smart beginner camping tips with kids. It comes in rugged camping models or prettier table-top designs (at very top). I think there's no reason you can't hang one — or a few — around your patio too.
This is a very smart, simple mosquito tech solution since the lantern uses cartridges with scents found in chrysanthemums to repel mosquitoes at a 15-foot range, rather than luring them to the lamp to kill them. I also like that each cartridge is nearly odorless to humans, lasts for 50 hours of repelling time, and you get three with your purchase to start.
I think the portability factor is really appealing, but the downside is that because it runs on batteries, it can get expensive to replace over time. So it might not be your best bet for every day (or every night) use.
Related: 10 terrific tech gear picks for camping and hiking
3. Flowtron Electronic Insect Killer: For big backyards
The Flowtron Electronic Insect Killer is the high tech mosquito killing solution that covers one of the largest areas we've seen — up to 1.5 acres. Whoa. It uses a high-intensity black light along with their exclusive mosquito-attraction cartridge to lure the bugs to the lamp, then zaps them inside a non-clogging grid.
It's durable, made to withstand any kind of weather, and the cover will keep kids and small animals like birds or chipmunks out so they don't get hurt. Big bonus for those of us parents, right?
The downside is you need to hang it at least 25 feet away from where people gather, since it lures mosquitoes to the lamp en masse. In other words, stay away.  Plus it needs to be plugged in to work, so, you might have to run an extension cord out to your backyard to hang it properly. But if it works as well as thousands of consumers say, it could be totally worth it.
For one more smart, new mosquito tech solution see this post.