When I imagined the future, I definitely saw little robots following us all around, perhaps sweeping up our crumbs and reminding us where we left our coffee. So, while the COWAROBOT doesn't do those things, it does follow you around with your luggage, which is a frequent traveler's dream. And a parent's dream too.
The COWAROBOT technology is pretty stacked, with a sensor that helps it avoid obstacles in its way, even managing pretty steep and uneven terrain, though I'm not exactly sure when you'd be walking around with luggage in say, a forest. But hey, you could be Amy Adams in Leap Year or something.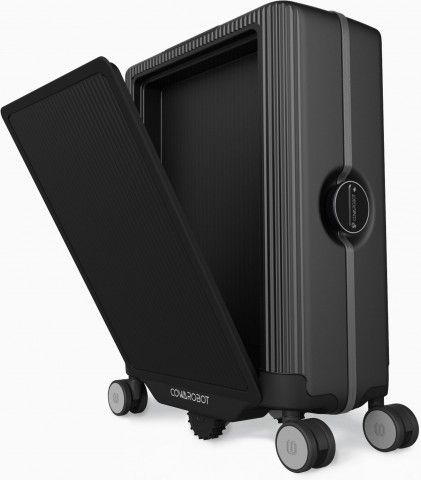 The suitcase is controlled by you with a bracelet that allows you to do everything from bring it back near you if it gets too far away, to unlocking it with their patented CO-SMART lock system. And with the built-in GPS (sweet!), you can track where it is at all times with their app.
It even charges your phone, though let's be honest here that's probably the least exciting feature (or maybe the most if you're traveling with 4 kids and everyone has their own gadget).
Although it's not cheap, the COWAROBOT is pretty comparable to a high-end luggage companies out there except, you know, it's a robot. Keep in mind that the introductory price is offered through their Indiegogo campaign, so it's not clear what the price will be when the suitcase officially launches.
But if you're on the road a lot, or you travel with your kids, this might be the perfect investment to give you one less thing to worry about. Which, you travelers know can be pretty invaluable.
Head over to the COWAROBOT Indiegogo campaign page to see it in action. Very cool.