Originally posted on Cool Mom PicksFor better, or worse, our kids live in a electronics culture, and I've always believed if you choose wisely, your kids can really benefit from the range of products out there. Well Made in Me was made by a dad (and a team of...
Tips & Tricks to Make Life (Way!) Easier
No Results Found
The page you requested could not be found. Try refining your search, or use the navigation above to locate the post.
Originally posted on Cool Mom PicksWhen I think back to my pregnancies, my first thought isn't of the miracle of life or even the swollen feet and the heartburn. No, when I remember those days, my mind immediately goes to one place: The bathroom. With each child, I...
Previously posted on Cool Mom PicksWe're always on the look out for the perfect Father's Day gift, or heck, any occasion gift for the men in our lives who are often hard to shop for. And selfishly, we kind of like gifts that we can get some use out of too.If you've...
Originally posted on Cool Mom PicksI am a Photoshop spaz, so I love finding programs that let me do cool things with my photos with little to no mental anguish. It's not just a great tool as a blogger, it's cool when I'm uploading them into e-invitations or videos or...
Not to brag, but for a non-geeky girl I know my way around a computer.  I'm not even afraid to dive into code. But where it comes to video editing, I'm a complete dolt.So when I created my very own free (free!) 30-second video at animoto, I was astonished at the...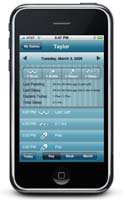 Previously posted on Cool Mom PicksThe quip, there's an app for that has become completely cliche, but Baby Brain has gone and proven it again. And new moms will want to sit up and take note.They've created the ultimate iPhone app for tracking baby's vital stats and...