For the many of you who have made it a post-Thanksgiving tradition to do all your Christmas shopping on Black Friday thru Cyber Monday weekend, I salute you. I don't even have enough energy after hosting Thanksgiving to pull one side of the wishbone, let alone get up a 4AM for doorbuster deals.


For those of you brave enough to battle the crowds, I advise you to fully prepare for the madness by getting enough sleep, staying hydrated and downloading these six fabulous apps, some of which even help with the easier online shopping madness too.
Shopkick
I recently covered the
Shopkick app
, which is perfect timing for this coming weekend. Shopkick rewards you (by giving "kickbucks") for visiting major retailers (Best Buy, Crate & Barrel, Target and more) and simply walking in the door. You accrue even more for making a purchase. If you're hitting a lot of stores this weekend, at least get rewarded for it! (Free,
iOS
and
Android
)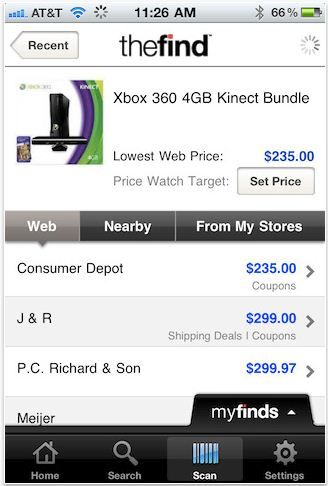 TheFind

Bargains
abound this weekend, but when you're shopping for many different people
and visiting different retailers, price comparisons makes for the most
efficient experience. We're all about efficiency, right? TheFind is a
great app that lets you search for the best deals for items in your
area. You simply scan the barcode directly from the app and its
app-magic will tell you if you can get that Leapster LeapPad for the
best price online or in the store. (Free,
iOS
and
Android
)
Savvy.com

Once you get that cashmere sweater you've been coveting
from J. Crew, you find out that your friend got the same one at 25% off
the day after you. That's a holiday shopping #fail. But now with the
Savvy.com
app, you can automatically be alerted to any price drops after
you've made a purchase and get an adjustment from any of its supported
retailers. The list is continually growing, but with GAP, J. Crew, Nine
West, Lowe's, Pottery Barn and lots more, your holiday list should be
covered. Even better, if you want a skirt to match that sweater, let the
app know at what price you'll make the purchase and it will alert you
when it drops. It's like your own personal shopping assistant. (Free, iOS)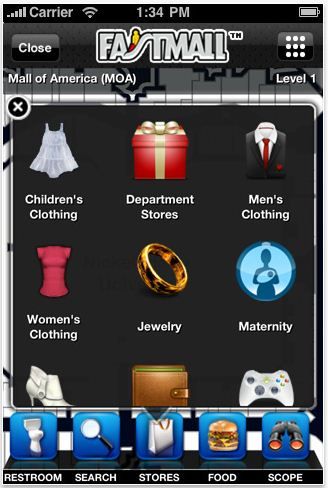 FastMall

Picture you're in the mall with your kids on Black Friday
and one of them says he needs to go potty…
badly
. You know you
need to weave through the masses and find the nearest bathroom stat.
Which is…where? That's when FastMall comes to the rescue. It's a tour
guide for the mall you're in, guiding you to the restrooms, telling you
which restaurants and stores are there, even letting you record yourself
a memo with your parking location details. Kinda fun. Malls are
continuously being updated in the directory. Note: The app worked great
at a mall near me, but you may run into some mall maps that need updating if you
don't live in a bustling shopping area. (Free,
iOS
and
Android
)
iOS and
Android
)
*There's also a TGI
Cyber Monday app offering the best online deals for Monday, Nov.
28.
(Free,
iOS
and
Android
)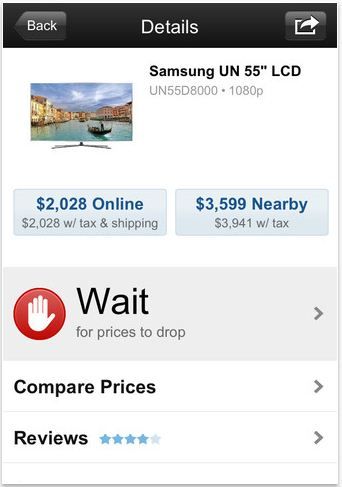 Decide.com

Finally,
we can't say enough about
Decide.com
. As a CMT sponsor, we recently
covered the app
and found that the Decide app is
one of the the handiest shopping companions to fit in the palm of your
hand. It essentially features the best bits of most of the apps listed
here and gives you price comparisons, barcode scanning, product browsing
AND price predictors. So you know whether to buy that big-screen TV
now, or hold off for another week and save big. (Free,
iOS
– and they're giving away a $5,000 shopping
spree now!)
Feel free to thank me
next Tuesday when you're counting all the cash you saved. -Jeana